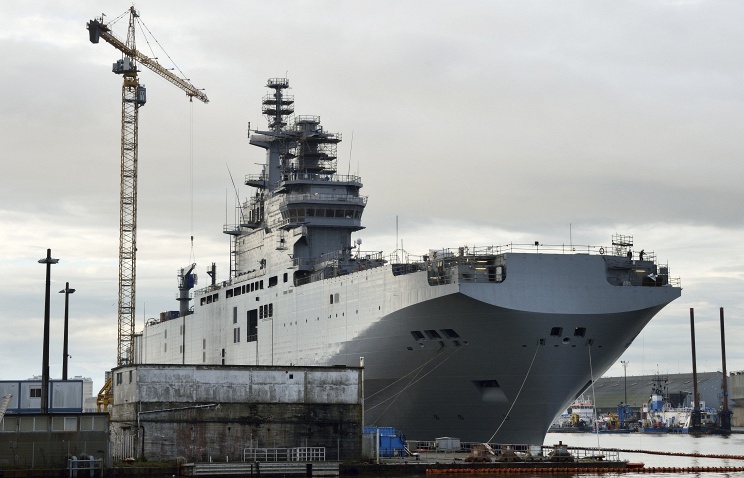 Egypt – already seen as a potential buyer for the Mistral helicopter carriers built by France for the Russian Navy – may also take delivery of Russian equipment installed on the vessels and now being dismantled by Russian technical experts, Deputy Defense Minister Yuri Borisov suggested in comments to reporters on Thursday.
Work to dismantle Russian equipment aboard began on Monday under the control of Russian specialists. General contractor in the construction project DCNS says it expects all items will be removed by the end of the year.
"Our specialists are already in France and have started dismantling," said Deputy Minister Borisov.
"I don't know how the situation will develop in the future," he said, adding that "all equipment will be used in the development of projects carried out in Russian shipbuilding", noting, meanwhile, Egypt's interest as "a potential buyer" for the vessels and pledging:
"We will not lose this equipment". Russia "will find a use for it", he promised. "The future buyer may get back to this problem and bring up the issue of equipment it could use."
Russia's United Instrument Manufacturing Corporation (UIMC) that develops and manufactures telecommunications equipment and automated control systems is ready to adapt the equipment it made for the Mistrals helicopter carriers to the needs of any foreign customer including Egypt.
News came on Wednesday that France and Egypt had co-ordinated purchase terms for the two warships.
Media reports said Paris would seek €950 million for the vessels, approximately the amount of compensation paid to Russia after the planned sale was halted late in 2014 over conflict in Ukraine.
Russia and France signed a contract worth €1.12 billion in 2011 to build two Mistral-class amphibious assault ships for Russian service.
The first ship, named Vladivostok, was made waterborne in October 2013, scheduled for handover to Russia in November 2014.
Sister ship Sevastopol was to be turned over to Russia in the first half of 2015. But Paris took an 11th-hour decision to suspend transition of the carriers under the pretext of events in Ukraine. After a long wait, the two parties announced in August that the contract had been severed.