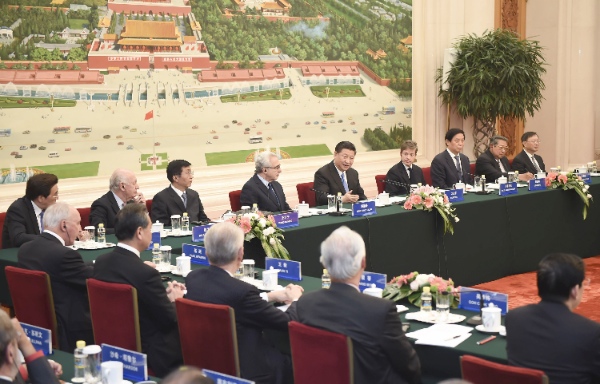 In spite of many uncertainties, the Chinese economy can grow at around 7 per cent over the next five years, asserted China's President Xi Jinping on Tuesday.
"It's possible for China's economy to maintain growth of around 7 per cent (over the next five years) but it also faces more uncertainties," Xi said at a conference in Beijing on Tuesday adding that China will continue the process of reform and opening-up.
"Looking at the need to double GDP, the bottom line for annual average economic growth between 2016 and 2020 is more than 6.5 percent," Xi said.
Last year's economic growth was 7.4 per cent.
Xinhua news agency quoted President Xi Jinping as saying the Fifth Plenary Session of the 18th Communist Party of China Central Committee, held in Beijing last week, had unveiled reforms of "unprecedented" strength and range.
The session approved proposals on the 13th five-year plan for China's national economic and social development from 2016 to 2020.
China aims to double its 2010 GDP and per capita income by 2020, among other targets on urbanization, poverty, the environment and governance.
"China's 13th five-year plan cannot be realized without substantial cooperation from the world," Xi said.
"We will continue to deepen reform in various areas, stick to a peaceful development road and an open strategy, and let the world benefit," he said.
President Xi Jinping also referred to the new Belt and Road project, two regional initiatives that Beijing is championing.
Xi said the Silk Road project is "an open and inclusive proposal to drive domestic demand and employment in countries along the route, and promote world economic recovery".
In March this year, the Chinese President said he hoped its annual trade with the countries involved in Beijing's plan to create a modern Silk Road would surpass $2.5 trillion in a decade.
Under the so-called "One Belt, One Road" initiative, China aims to create a modern Silk Road Economic Belt and a 21st Century Maritime Silk Road to boost trade and extend its global influence.
Hungary signed an agreement with China officially joining Beijing's ambitious Silk Road network in June, becoming the first European country to join the project. The Silk Road could be the second China-led project in recent months, after the Asian Infrastructure Investment Bank (AIIB) to attract a flurry of EU participation.
A map unveiled by Xinhua shows the Chinese plans for the Silk Road run through Central China to the northern Xinjiang from where it travels through Central Asia entering Kazakhstan and onto Iraq, Iran, Syria and then Istanbul in Turkey from where it runs across Europe cutting across Germany, Netherlands and Italy.