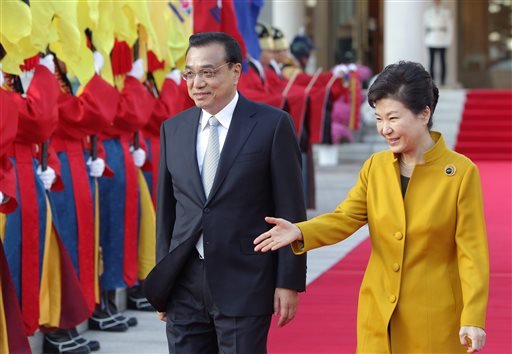 SEOUL, South Korea (AP) — The leaders of South Korea, China and Japan met Sunday for their first summit talks in more than three years as the Northeast Asian powers struggle to find common ground amid bickering over history and territory disputes.
No major breakthrough is expected from the summit. But analysts say that just getting together in the same room, their first such formal meeting since May 2012, is a good sign, though it remains to be seen if it will forge better ties between Japan and its neighbors.
"A negative, hostile atmosphere prevailed in the past, but they're now paving the way for better dialogue. That's the biggest meaning of this trilateral summit," said Bong Youngshik, a senior researcher at Seoul's Asan Institute for Policy Studies. "It's a positive sign."
On Saturday, South Korean President Park Geun-hye told visiting Chinese Premier Li Keqiang in a sideline meeting that she hopes cooperation among the three countries will resume after this weekend's talks, according to her office. Park is to meet Abe on Monday in what will be her first formal one-on-one meeting with him since her inauguration in early 2013.
Chinese President Xi Jinping met Abe last November on the sidelines of a regional conference that Beijing hosted, and they've met twice since.
Analysts say the summit won't likely produce anything tangible on sensitive history and territorial disputes. They say the Asian leaders instead may seek common ground on economic issues, such as how to boost trade ties as their countries face economic woes at home.
Park and Li agreed Saturday to work toward ratifying by the end of the year a bilateral free trade agreement that their legislatures have yet to approve.
North Korea is also on the agenda Sunday. Pyongyang's nuclear bomb and missile programs have long posed a serious security worry for Seoul and Tokyo. China is North Korea's only major ally and biggest aid benefactor, but has shown signs that it's increasingly fed up with the North's repeated provocations.
Park told Li that she wants China to continue to play a constructive role on North Korea issues, while Li called for more patience to continue efforts to achieve a nuclear-free Korean Peninsula, according to Park's office.
South Korea, China, Japan and North Korea are all members of now-dormant international negotiations on ending Pyongyang's nuclear ambitions. The other two members are the United States and Russia.
Despite widespread discontent in Seoul with Abe, Park has faced calls at home to improve ties with Tokyo, and Washington has pushed its two Asian allies to heal their rift.
South Korea and Japan together host about 80,000 U.S. troops, the core of America's military presence in the Asia-Pacific. Washington wants to solidify its alliance with the two countries to better deal with a rising China and a North Korean threat.
South Korea knows Abe won't make any concession on history issues, but it also understands how important the Seoul-Washington-Tokyo alliance is in coping with North Korea's missile and nuclear bomb efforts, said analyst Lee Daewoo at the private Sejong Institute.