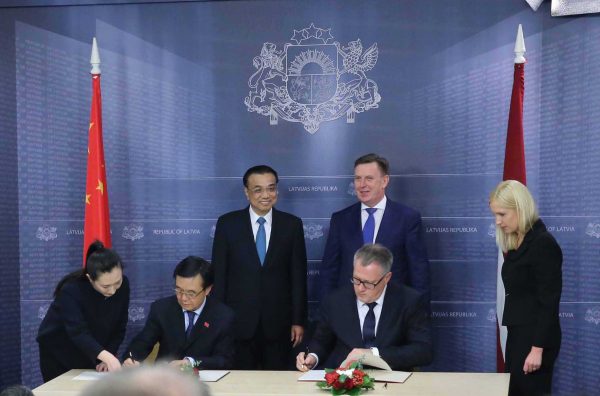 Chinese Premier Li Keqiang landed in Latvia on Friday in what is the first such visit to the country since it declared its independence from the Soviet Union in 1991.
Li's will stay in Latvia for three days and is scheduled to meet with leaders from 16 Central and Eastern European (CEE) countries during the "16+1" summit.
The EU will attend the 16+1 meeting as an observer.
Latvian Prime Minister Maris Kucinskis said that his country's relations with China are at their apex in history, and the Baltic nation seeks to further develop such vigorous relations with the world's second largest economy, Xinhua reported.
"The economic cooperation between the two countries signals optimism for further development, but Latvia still needs to increase exports to China and attract more Chinese investment," Kucinskis said.
For his part, Li said that his country considers Latvia an important transit station for China-EU trade.
He pledged Beijing's readiness to work on the three-sea harbor district cooperation initiative, which is a joint program tying the Adriatic, Baltic and Baltic seas.
Li and Kucinskis also attended the sign ceremony of bilateral cooperation documents in trade, transportation and culture.
Riga is the third leg of Li's Eurasian tour that has seen him stop in Kyrgyzstan and Kazakhstan, and will end with a visit to Moscow.
During his vist to Bishkek, the Kyrgyz capital, Li said that China wants to see the creation of a free-trade zone with Russia, Kyrgystan, Kazakhstan, Tajikistan and Uzbekistan – nations which comprise the Shanghai Cooperation Organization (SCO).
The SCO on Thursday signed a proposal to create a development bank and fund to boost financial cooperation.