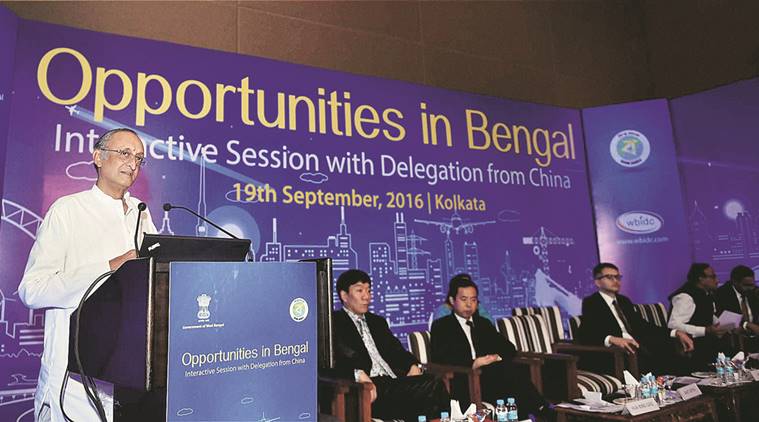 A Chinese delegation, representing 13 companies from the country, on Monday began its two-day visit to the state to explore investment opportunities.
State Finance Minister Amit Mitra met the delegation of 21 officials from 13 companies in China — which reportedly have an overall turnover of $10 billion.
"These companies are from the sectors of coal machinery equipment, metallurgical equipment, mining equipment, electrical equipment and production, chemical production, medical equipment, biomedical equipment, hydro-power equipment and real estate building materials," Mitra said.
He added: "They have come to Bengal to see investment opportunities here and what we have to offer. During the two-day trip, they will meet officials of various business houses and also visit the Panagarh Business Park at Burdwan." The delegation will also hold meetings with companies such as Tata Steel, Paharpur Cooling Towers, Himadri Chemicals, Vikram Solar and Hyland Group.
In November, another Chinese delegation of Fortune 500 companies will visit the state, he said, adding that they were expecting that China would have a reasonable presence in next year's Bengal Global Business Summit. "Chinese companies are known to grab opportunities very quickly. Their eyes are now on West Bengal," Mitra said.
The delegation, led by Gao Haubing, Executive Director of Global Communications Exchange Centre, said Bengal was business friendly and conducive to investment.
Speaking on the sidelines of the meeting, Gao said China was interested in solar energy, hydro-power and green energy, infrastructure, real estate and heavy machine production sectors of Bengal.
Asked why they had chosen West Bengal, he said: "The development that can be seen in West Bengal led to our decision. The political situation of the state has improved."
Mitra said he was optimistic that China would take a quick call on investing in the state.
"The Chinese are known for taking quick decisions and grabbing opportunities. They know that in Bengal, there is one lakh acres in the government's land bank, surplus of human capital as well as water and electricity supply. Within our policy, we will extend all kind of help," he added.
Anurag Choudhary, CEO of Himadri Chemicals, said: "We have set up four chemical plants — two in Howrah, one at Singur in Hooghly and another at Falta in South-24 Parganas. We will discuss what new products the delegation can add to our project."