Mumbai – Emerging-market stocks rose to an eight-week high and currencies strengthened as China's steps to support the economy boosted investor confidence.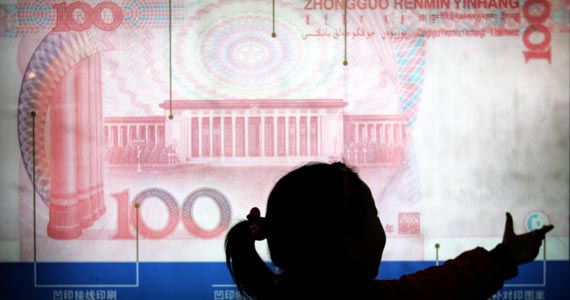 Chinese stocks rallied after the central bank on Monday cut banks' reserve requirements and a strengthening yuan overshadowed disappointing manufacturing data. The Ibovespa advanced to the highest this year in Brazil, which lists China as its biggest trading partner. Indian equities jumped the most since 2013 on optimism a government budget will boost rural demand. Russia's ruble rose the most among developing-nation currencies as oil prices advanced for a second-day.
The People's Bank of China raised the reference rate for the yuan after cutting reserve levels, while a manufacturing purchasing managers' index for February missed estimates, falling to the lowest since 2009. Brent crude rose 0.7 percent to $36.81 a barrel, the highest closing price since January 4.
"The PBOC showed it is more concerned about growth than reforms at the moment, so the weaker PMI today is fuelling speculation that we could see more easing measures," said Michael Wang, a strategist at hedge fund Amiya Capital in London, who prefers Indian, Indonesian and Mexican shares. "Commodities sectors and currencies benefit more from a stabilisation in Chinese growth, so it makes sense they are the biggest gainers today."
Stocks
The MSCI Emerging Markets Index advanced for a third day, climbing 1.7 percent to 752.92. All 10 industry groups rose, led by a 2.5 percent gain in energy stocks. The equity benchmark has dropped 5.2 percent this year and is valued at 11.1 times its 12-month projected earnings, compared with a multiple of 15.3 for the MSCI World Index of developed countries, which is down 5.3 percent in 2016.
The Ibovespa jumped 3.1 percent. Iron-ore producer Vale SA was the best performer in a gauge of Brazilian raw-material stocks, rallying more than 7.9 percent. Steelmaker Cia. Siderurgica Nacional climbed 3.9 percent to the highest since November.
BHP Billiton and Anglo American each jumped more than 2 percent in Johannesburg, helping to push the South African benchmark 2.4 percent higher. Barclays Africa Group rose for the first time in three days after Barclays said it will reduce its 62.3 percent stake in the South African bank, calming concerns that the London-based lender was planning to sell its entire holding and exit operations on the continent.
Indian shares surged 3.4 percent with investors betting that consumer companies are likely to benefit from government efforts to increase rural demand. ITC, the country's biggest cigarette maker, jumped 9.9 percent after Credit Suisse Group and CLSA Asia-Pacific Markets raised their recommendations on the stock.
Currencies
The Hang Seng China Enterprises Index of mainland shares traded in Hong Kong climbed 1.9 percent, after losing almost 24 percent in the past four months. The Shanghai Composite Index advanced 1.7 percent.
A gauge of 20 emerging-market currencies increased 0.9 percent, rising for a second day. Russia's ruble was the best performer, strengthening 2.5 percent, followed by a 2.1 percent gain in Brazil's real.
China's yuan advanced for the first time in eight days, with a stronger central bank reference rate easing pressure spurred by Monday's cut to lenders' reserve ratios. The onshore-traded yuan climbed less 0.1 percent to 6.5485 per dollar, ending a seven-day slump, after the central bank set the fixing 0.1 percent stronger.
Bonds
India's rupee rose 0.8 percent versus the dollar, gaining for a third day. On Monday, Finance Minister Arun Jaitley retained the government's target of narrowing the fiscal deficit to 3.5 percent of the gross domestic product in the year starting April 1. Jaitley also boosted spending on a rural jobs program and proposed a new health insurance plan, while budgeting for higher wages and military pensions. He also called for doubling farmer income in five years.
The yield on India's bonds due 2026 declined two basis points to 7.60 percent after sliding 16 basis points on Monday.
Russian government bonds rose, pushing the yield on five-year notes down 21 basis points to 9.53 percent, while the rate on two-year Turkish notes fell one basis point to 10.73 percent. The premium investors demand to own emerging-market debt over U.S. Treasuries narrowed 14 basis points to 440, according to JPMorgan Chase & Co. indexes.