BEIJING (AP) — China and the U.S. are boosting cooperation in sending home crime suspects amid a Chinese drive to ferret out corrupt officials and fugitives who have fled abroad.
The Department of Homeland Security said the sides agreed to streamline the process for identifying and returning fugitives, along with those who have overstayed their visas or entered the U.S. illegally.
The agreement came during Secretary of Homeland Security Jeh Johnson's visit to Beijing last week, during which a range of law enforcement issues were discussed, including counterterrorism and cybersecurity.
A department news release Sunday said the sides would share more information on repatriation and fugitive cases and provide regular updates. China also agreed to expedite the return of the more than 39,000 Chinese citizens currently in the United States who are at some stage in the process of being deported.
"The two participants further acknowledged that neither country should serve as a safe haven for fugitives," the news release said.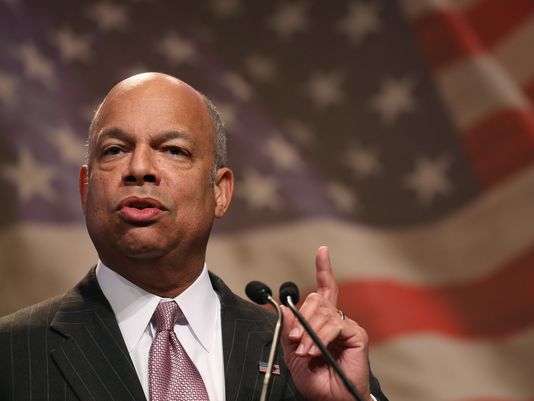 China and the U.S. have no extradition treaty, although wanted persons can be prosecuted in the country to which they fled or be expelled for immigration violations. Their assets can also be seized if determined to have been illegally acquired, leaving them little option but to return home.
While China has expressed interest in a treaty, the U.S. says that's being blocked by Beijing's failure to agree to extradite Chinese citizens accused of crimes in the U.S.
China says almost 700 fugitives suspected of economic crimes have been returned home from abroad under transnational operations codenamed "Fox Hunt" and "Sky Net," some in return for lighter punishments or through other inducements.
The operations are part of Chinese President Xi Jinping's overall war on corruption that has seen thousands of officials investigated and brought down numerous serving or former bigwigs.
Beijing has estimated that since the mid-1990s, 16,000 to 18,000 corrupt officials and employees of state-owned enterprises have fled China or gone into hiding with pilfered assets totaling more than 800 billion yuan ($135 billion).
Some of them have fled to the U.S., and Beijing last year provided Washington with the names of more than 100 wanted fugitives. However, U.S. officials said little information was offered about their identities, alleged offenses or possible whereabouts in the U.S., making it difficult to act on the requests.
On the issue of counterterrorism, the Department of Homeland Security said Johnson and Chinese Minister of Public Security Guo Shengkun agreed to share more information about the cross-border movements of foreign terrorist fighters.
Johnson and Guo also intend to hold discussions between the bodies they head to "achieve concrete cooperation and set a path to re-establishing a full government to government cyber dialogue," the department said.
China suspended a cybersecurity dialogue with the U.S. almost two years ago in retaliation for Washington's indictment of five Chinese military officers for allegedly stealing trade secrets online.