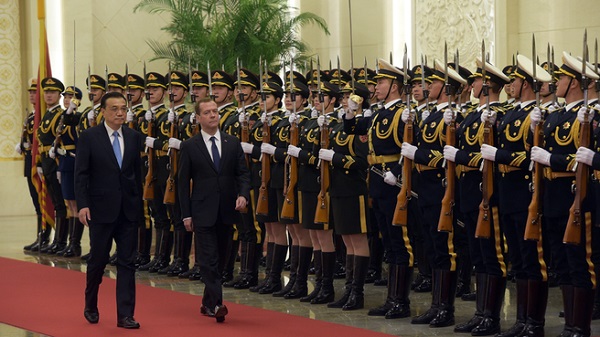 Russian and Chinese Premiers Dmitry Medvedev and Li Keqiang held a bilateral meeting in Beijing on Thursday, following which an array of cooperation agreements were signed to boost economic ties between the two neighbours.
The heads of government meet also examined ways to push the proposed integration project of the Russia-led Eurasian Economic Union and China's ambitious Silk Road Economic Belt.
Political, economic and security ties were discussed at the meeting attended by senior Cabinet ministers in both governments, Russian officials said.
China and Russia on Thursday signed more than 30 cooperation documents in energy, investment, finance, high technology and other areas following the Li-Medvedev summit.
Li said both Russia and China will strive to reach the bilateral trade target of $200 billion by 2020.
"I totally support what Mr Li Keqiang said about the need to react to the current economic environment and to the weakness and volatility of markets. We need to find new solutions and directions for cooperation, including in dealing with a number of challenges that our countries and economies are facing," Medvedev told Li.
China is Russia's biggest foreign trade partner, accounting for 11.3 per cent of Russia's foreign trade in 2014. Russia is China's ninth trade partner, with a share of 2.2 per cent in China's foreign trade in 2014.
Bilateral trade has dropped this year owing to the economic downturn in Russia and the slowdown in China.
Russia's exports to China were $19.1 billion, or down by 26 per cent. Imports from China stood at $22.4 billion, down by 32.7 per cent.
However, Chinese investment into Russian mining, agriculture sectors continue unabated.
China's cumulative investment this year in the Russian economy reached $8.7 billion as of late June 2015, or up by 11.9 per cent since June 2014.
Russia has also taken over as China's top oil supplier this year.
In the first six months of 2015, Russia's oil exports to China increased by 15 per cent compared to the same period last year.
Russia, the largest oil and gas exporter, faces a recession this year as crude prices continue to fall.
During a September meeting this year, Presidents Xi Jinping and Vladimir Putin witnessed the signing of a raft of energy deals that included joint development of Russian oilfields.
During a three-day China trip, Medvedev attended a summit of the prime ministers of the SCO bloc and a World Internet conference.
Earlier on Thursday, the Russian Premier laid a wreath at the Monument to the People's Heroes in Beijing's Tiananmen Square that commemorates Chinese revolutionary heroes of the 19th and 20th centuries.