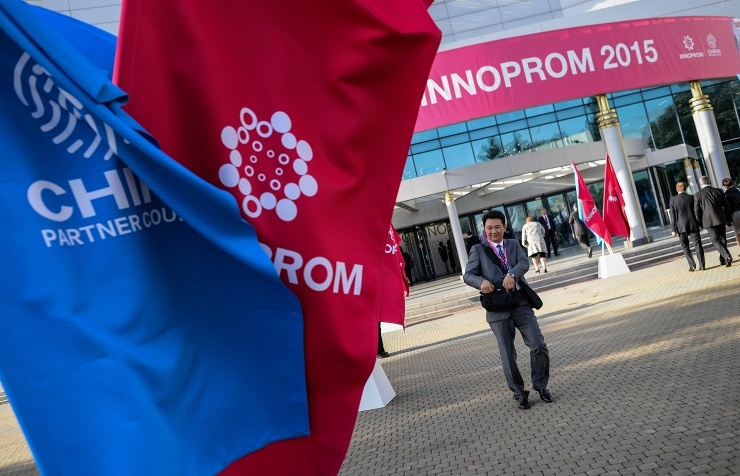 Chinese companies have signed 10 framework agreements with Russian partners on cooperation in various branches of industry during an international industrial trade fair held in Russia's Urals city of Yekaterinburg from July 8 to 11.
Tian Yongxiang, China's consul general in Yekaterinburg, told journalists on Monday: "This year, China has acted as a partner country of the Innoprom fair. A big delegation from our country has arrived in Yekaterinburg."
"Some 130 companies have taken part in the exhibition. Ten of them have already signed framework agreements with Russian partners," Tian told a news conference at the TASS-Urals regional information centre.
He said the accords referred to cooperation in building underground railways, developing rail transportation services and exchanging construction materials as well as working together in the worlds of legal proceedings, automated systems and robotics.
"Russian and Chinese companies continue bilateral meetings at the moment to formalize the agreements achieved and start implementing joint projects," Tian added.
The Innoprom fair, organized under the patronage of the Russian Ministry for Industry and Trade, is dedicated to intelligent technologies, materials and solutions resulting in higher production efficiency.
It assembles enterprises and companies offering solutions for production modernization and creating technologies that increase efficiency, speed and quality, and improving the ecological performance of manufacturing processes.
This year's forum has attracted representatives from 46 Russian regions and more than 70 countries worldwide. The biggest delegation came from China.
Last year, Russia invited China to become its partner country at Innoprom-2015. This was announced at a meeting between Russian President Vladimir Putin and Chinese leader Xi Jinping in Shanghai.