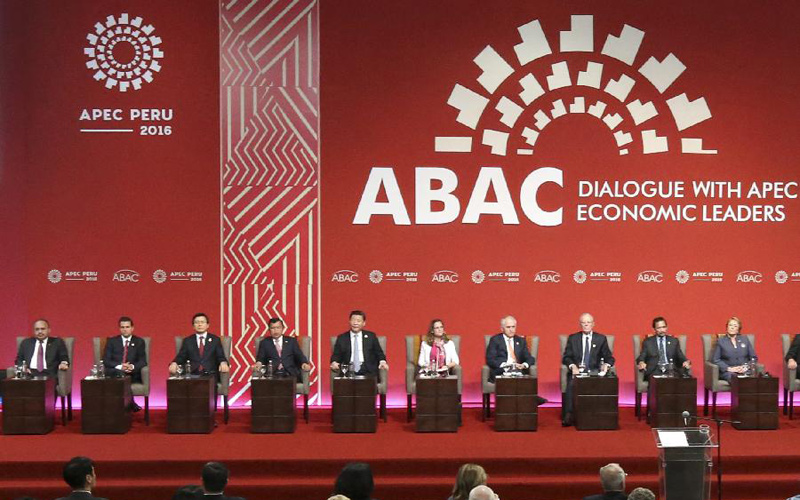 Against a backdrop of fragmented regional economic cooperation and sluggish recovery, the latest proposal to boost economic growth, championed by China, shines a light on the outlook of the Asia-Pacific region.
In a keynote speech at the Asia-Pacific Economic Cooperation (APEC) CEO Summit in Lima, Peru, President Xi Jinping called on the 21 APEC member economies to strive for an open and integrated economy, and enhance connectivity to achieve interconnected development.
Xi also suggested boosting reform and innovation to create more internal driving forces, and called for win-win cooperation to forge strong partnership.
Such a four-point proposal features directions that will help drive economic development and regional cooperation in Asia Pacific.
Economic integration and openness, which have underpinned development in China and the Asia-Pacific region over the past 25 years, are of special significance as protectionism threatens to dent global trade and economic integration.
Meanwhile, connectivity and interconnected development are key drivers that will support economic integration and continued vitality in the region, while reform and innovation are the internal forces that will spur development for member economies.
Actually, China is not only laying out a theory, but is following its words with actions.
The nation is actively pushing forward the building of a Free Trade Area of the Asia-Pacific (FTAAP), a strategic initiative critical for the long-term prosperity of the Asia-Pacific region and an institutional mechanism that will ensure an open economy in the region.
The FTAAP process was launched at the 2014 APEC Economic Leaders' Meeting in Beijing with the endorsement of a roadmap. Subsequently, a "collective strategic study" was conducted, as agreed by APEC members, and the results should be reported to economic leaders by the end of 2016.
In addition, China has played a positive role in the improvement of connectivity in the region through such mechanisms and channels as the Belt and Road Initiative, the Asian Infrastructure Investment Bank, the Silk Road Fund and South-South cooperation.
China became a member of the APEC forum 25 years ago. The past quarter century has seen China act as a contributor and active participant.
The past few decades also show that shared prosperity can be achieved as member economies open up to each other.
China has entered a decisive stage in its mission to build a moderately prosperous society in all respects. Supply-side structural reform and its pursuit of innovative, coordinated, green, open and shared development, among other aspects, have all warranted confidence in and expectation of China's growth.
In the next five years, China will import 8 trillion U.S. dollars of goods, welcome 600 billion dollars of foreign investment and invest 750 billion dollars overseas, and Chinese tourists will make over 700 million outbound visits.
These projections bear out that China's development offers opportunity to the Asia Pacific and the world at large.
Matching words with actions, China can be expected to stride along the Asia-Pacific region into a new phase of development.