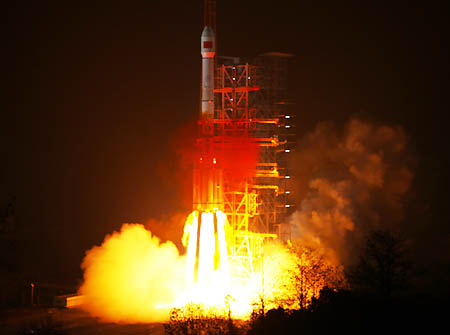 China on Wednesday launched a new-generation satellite into orbit, designed to create its own global positioning network by 2020.
Launched from Xichang Satellite Launch Center at 7:13 am (Beijing time) in the southwestern province of Sichuan, the satellite was boosted by a Long March-3B carrier rocket.
It was the 20th satellite for the BeiDou Navigation Satellite System (BDS), and places China one step closer to providing an alternative to the US-operated GPS.
For the first time the satellite featured a hydrogen atomic clock. A series of tests related to the clock and a new navigation-signal system will be undertaken, according to a statement from the launch center.
Named after the Chinese term for the 'Big Dipper" constellation, the Beidou project was formally launched in 1994, some 20 years after GPS.
The first Beidou satellite was not launched until 2000.
By 2012, a regional network had already taken shape, which provided positioning, navigation, timing and short message services in China and several other Asian countries.
In all, the navigation system Beidou, or Compass, now has 20 satellites and mostly centres on the Asia Pacific, but is expected to cover the planet by 2020.
China plans to expand the Beidou services to most of the countries covered in its "Belt and Road" initiative by 2018, and offer global coverage by 2020.
China and Russia inked an agreement last year to let China's Beidou and Russia's GLONASS collaborate.
China's homegrown Beidou Navigation Satellite System began providing initial positioning, navigation and timing operational services to China in December 2011. Beidou is compatible and interoperable with the world's other major global navigation satellite systems, including Russia's Global Navigation Satellite System (GLONASS).
"We'd like to work with our Chinese friends in several space services – in cartography and communications. In the future, we'd like to create our own radio-resistant equipment and spacecraft vehicles," said Russian Vice Premier Dmitry Rogozin.