Asian airlines improved their safety records in 2015, but — outside of China and India — you wouldn't know it from looking at their stock performance.
AirAsia Bhd. and its long-haul unit have been Asia's worst-performing airline stocks this year after a series of crashes in 2014, including one involving AirAsia's Indonesian affiliate, raised concerns about aviation safety across the region.
Fatal accidents involving Malaysia Airlines Bhd., AirAsia Indonesia and Taiwan's Transasia Airways Corp. made 2014 a deadly one for travelers. The accidents, in which a total of more than 700 people were killed or presumed dead, highlighted shortfalls in aviation infrastructure and practices in some parts of Asia. This year, more than 100 people have died in plane crashes around Asia.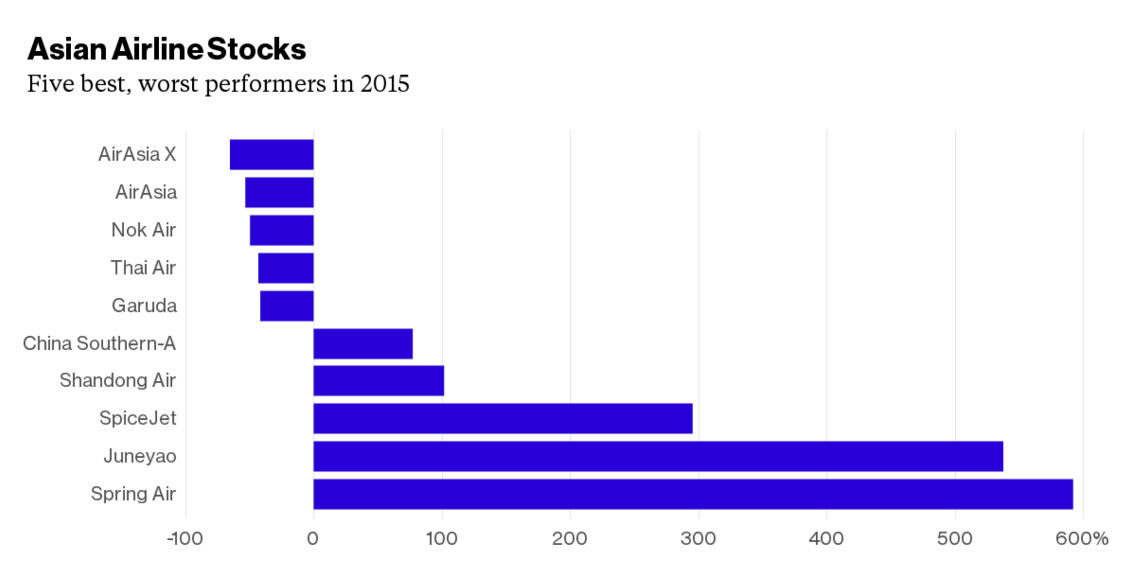 AirAsia has fallen 53 percent this year and AirAsia X Bhd. has dropped 65 percent, according to data compiled by Bloomberg on 39 Asian carriers. The Bloomberg Asia Pacific Airlines Index, a gauge of 15 major Asian airline stocks by market value that doesn't include the AirAsia companies, has gained 21 percent.
"The accidents have left a lasting impact for a lot of global travelers and also domestic travelers. They just feel nervous," said Mohshin Aziz, an analyst at Malayan Banking Bhd. in Kuala Lumpur. "The perception lingers."
'Chindia' Exception
In contrast, surging travel demand has made Chinese and Indian airline shares some of the world's best performers. Spring Airlines Co. is up nearly 600 percent since it began trading in Shanghai in January, while Juneyao Airlines Co. has jumped more than fivefold since its debut in May. India's SpiceJet Ltd. has climbed almost 300 percent this year.
Almost 36 million Chinese traveled overseas in the third quarter, 12 percent more than a year earlier, according to the Chinese Outbound Tourism Research Institute, which forecasts 135 million outbound Chinese tourists for the full year. IGATE Research, in a report cited on the Financial Express website, predicted India would have almost 30 million outbound tourists by 2018. India and China are among the fastest-growing markets for Airbus Group SE and Boeing Co., which both expect Asia to overtake the U.S. as the world's biggest plane market in two decades.
Elsewhere in Asia, though, even carriers with good safety records have suffered, with Thai Airways International Pcl shares dropping 43 percent this year and Bangkok-based budget carrier Nok Airlines Pcl down 50 percent. The United Nations' International Civil Aviation Organization cut Thailand's safety rating earlier this year and the U.S. Federal Aviation Administration followed suit Dec. 1, barring Thai carriers from adding U.S. destinations. The European Union ultimately didn't downgrade Thai airlines in its semi-annual safety list issued Dec. 10, but its inspections left Thai regulators scrambling to improve aviation safety.
Another legacy carrier suffering from the general perception of risk is Indonesia's PT Garuda Indonesia, down 42 percent this year. Still, it could be worse: Russia's Transaero Airlines, for example, was down 95 percent through Dec. 18, data compiled by Bloomberg show.