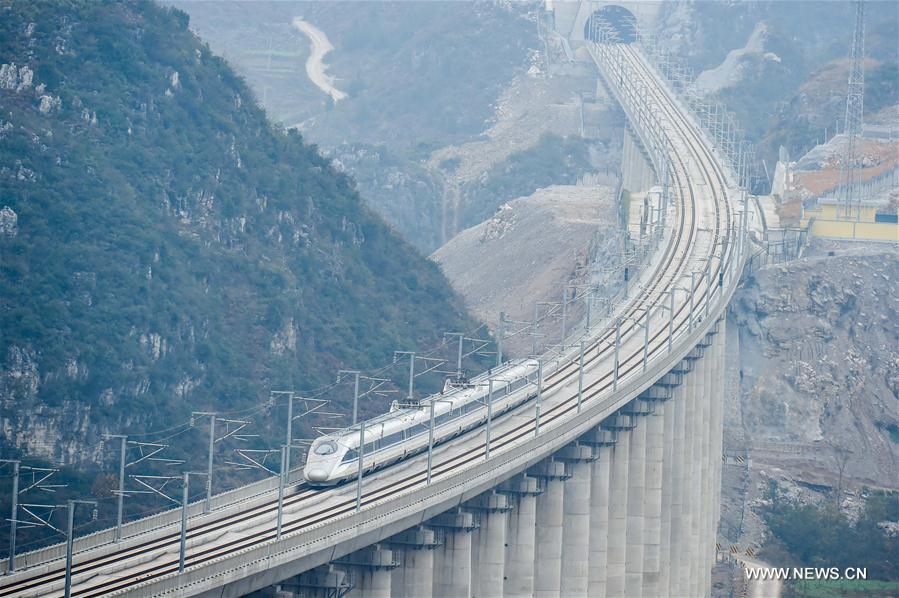 China aims to build a comprehensive transport system, with a faster, greener and safer network to offer more efficient services to the public by 2020, according to a white paper released on Thursday.
The white paper, titled "Development of China's Transport," reviewed the sector's tremendous changes in past decades and set goals for its further expansion in coming years.
The sector should quicken its pace of development, and fully play its basic role as a vanguard for completing the building of a moderately prosperous society in all respects in 2020, said the document issued by the State Council Information Office.
At a press conference on Thursday, vice minister of transport Yang Yudong disclosed that China plans to invest 3.5 trillion yuan (503.6 billion U.S. dollars) in railway construction during the 13th Five-Year Plan period (2016-2020).
By 2020, China will increase the length of high-speed railways in operation to 30,000 kilometers, connecting more than 80 percent of its big cities.
The country will also renovate 30,000 km of expressways and provide tarmac and cement roads and shuttle bus services for administrative villages with the necessary conditions, while all villages will have access to mail service, the white paper said.
Over the past decades, China's transport network has undergone drastic changes, especially the railway sector.
When the People's Republic of China was founded in 1949, total railway length was only 21,800 km, half of which was paralyzed.
Thanks to a series of reforms since then, total railway operation length reached 121,000 km by the end of 2015, the world's second longest, including 19,000-km high-speed railway, ranking top of the world.
While the vast network has enhanced connectivity in large swathes of the country, disparity remained as construction has lagged behind in the less developed western regions, and in recent years, the government is seeking to narrow the gap.
The white paper pledged to speed up the construction of railways in the central and western areas.
China on Wednesday put into operation one of the world's longest high-speed railways, linking the country's prosperous eastern coast to the least-developed southwestern region.
The Shanghai-Kunming line — 2,252 km in length — traverses five provinces of Zhejiang, Jiangxi, Hunan, Guizhou and Yunnan and cuts travel time from Shanghai to Kunming from 35 to 11 hours, according to China Railway Corporation.
Also on Wednesday, another high-speed rail line linking Kunming and Nanning, capital of southwest China's Guangxi Zhuang Autonomous Region, was launched.
Faster, greener, safer network
China will build commuting circles of 1 to 2 hours between the central cities and between central and peripheral cities, and one-hour commuting circles between central cities and key peripheral towns.
With priority focused on public transit, China will speed up the development of its urban rail and bus rapid transit, and other means of high-capacity public transport, according to the white paper.
By 2020, intercity railway networks will be completed in several urban agglomerations including the Beijing-Tianjin-Hebei, Yangtze River Delta and Pearl River Delta areas.
The white paper said more efforts will be made in cities with 3 million or more residents to form urban rail transport networks, and about 3,000 kilometers of new tracks will be added to the current urban rail transit system.
China will also move to build integrated transport hubs, promote the green and intelligent development of transport services and improve safety in the transport industry, it said.
The country is aiming to build a comprehensive transport network that spreads from east to west and south to north, construct passageways that extend beyond its borders, and develop sea routes for the 21st-Century Maritime Silk Road in the five-year period, said the white paper.
Leading technology innovation
With leading technology innovation and application, high-speed rail has become a symbol of Made-in-China and going-global products, said the white paper.
"China's technologies for high-speed, alpine, plateau and heavy-haul railways have reached the world's advanced level," said the document.
Railway and highway construction technologies have overcome world-level geological challenges such as plateau permafrost, and expansive soil and sand. The construction of the Qinghai-Tibet Highway and Qinghai-Tibet Railway has been completed and they have been opened to traffic, said the white paper.
"High-performance railway equipment technologies with proprietary intellectual property rights, represented by high-speed railways and high-power locomotives, have reached the advanced world level, with some of them leading the world," it said.
Information and communications technologies, such as big data, cloud computing, Internet of Things and mobile Internet, have been widely applied in transport, and combined online and traditional business models are thriving, said the white paper.
In addition, the white paper said China is quickening the pace of Chinese enterprises' "going global" with China exhibiting a strong competitive edge in the areas of railway building, transport projects and port operation.
Besides high-speed rail, China's key construction technologies for offshore deepwater ports, improved technologies for large estuary waterways and long waterways, and construction technologies for large-scale airports are leading the world, said the white paper.