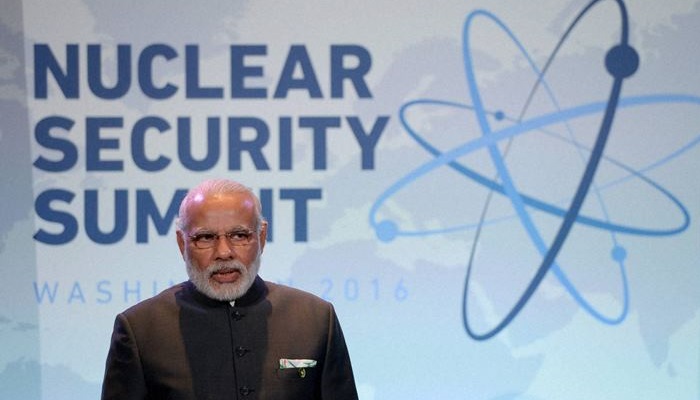 Describing China as an "important player" in the nuclear sector, a senior Chinese state policy researcher has said it is one of the areas where it can cooperate with India, a remark which comes amidst growing strain between the two countries over the NSG issue.
Speaking in New Delhi, Chen Wenling, a senior researcher of the Chinese State Council Research Office, also made a strong pitch for long-term visas for Chinese nationals visiting India, which she said would boost bilateral trade and investments.
On areas where the two neighbours can cooperate, she said manufacturing, nuclear energy, bullet trains, tourism, education, agriculture and services industry are among the areas where they can enhance their cooperation.
"China is an important player in the nuclear sector. Chinese energy players are investing in the US market," she remarked during a discussion with a select gathering here in the presence of Minister Counselor Cheng Guangzhong on Thursday.
"India is known as the world's back office while China is known for its manufacturing prowess. China can learn from India in the areas of services, IT and outsourcing…. But for China to invest, a market has to be clear, transparent and secure," she said.
India's Nuclear Suppliers Group membership bid hit a roadblock when the plenary of the 48-nation held in South Korea last month decided against accepting India's application after China and some other countries opposed entry of a non-NPT signatory into NSG.
While External Affairs Minister Sushma Swaraj made it clear in Parliament on Wednesday that India will never sign the Nuclear Non-Proliferation Treaty (NPT), an adamant China on Thursday said "no country should or can put itself opposite the NPT".
"We have repeatedly stated our position on the accession of non-NPT countries into the Nuclear Suppliers Group (NSG),"Chinese Foreign Ministry Spokesman Lu Kang said in Beijing while reacting to Swaraj's statement.
Wenling also assured India that the Xi Jinping dispensation was focusing on strengthening relationship with its neighbours and was concerned about the "well-being" of those countries including India.
Talking about the 'slowdown' in the rate of the growth of the China, she said it is a "normal" phenomenon that any large economy goes through at some point and described it as a major "shifting" period for the country.
Wenling, a leading economist, said the old structure was being replaced by the new in China in the form of development of newer Special Economic Zones and "decentralisation" of power.
"As the size of the economy grows, the growth rate will come down, it is normal. It will be around 6.5 per cent this year on the lower side. Chinese government is now pondering upon bringing structural reforms in the economy. All large economies, including the US, have seen periods of upsurge and fall," Wenling said.
The International Monetary Fund, in its Regional Economic Outlook for Asia and the Pacific, has said that China's economy is expected to slow sharply and is tipped to expand 6.5 per cent this year — the lower end of Beijing's target — and 6.2 per cent in 2017.