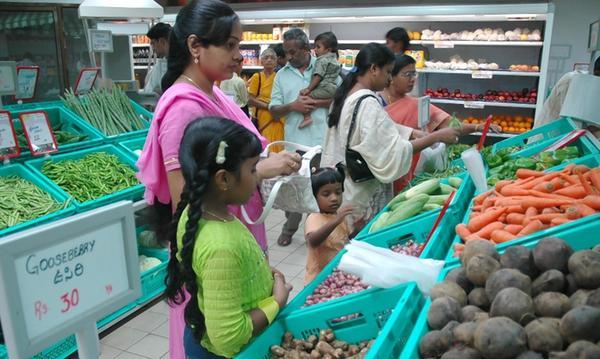 The Centre may soon consider a three-pronged approach to revitalise India's retail and wholesale trade.
This includes establishing a regulatory body for national internal trade (retail and wholesale), a comprehensive domestic trade policy and a Board for Internal Trade.
The strategy is likely to come up for discussions among ministries including finance and commerce & industry as well as the government's policy think-tank NITI Aayog and the apex traders' body — the Confederation of All India Traders (CAIT) — during meetings slated for this week and the next, according to sources privy to the development.
The meetings are also expected to take up allegations against leading e-commerce firms of violation of the Foreign Direct Investment (FDI) norms by offering huge discounts on their online platforms.
As per the FDI policy, 'e-commerce entities providing marketplace shall not directly or indirectly influence the sale prices of goods or services and shall maintain level playing field.' According to CAIT, the discounts being offered by e-commerce firms amount to influencing sale prices, thereby flouting the FDI policy.
Currently there is no single regulatory body or ministry for domestic trade — comprising mainly non-corporate small businesses providing employment to an estimated 460 million people.
There are about six crore such enterprises in the country with an annual turnover of around Rs.30 lakh crore. CAIT, which has conducted 46 conferences across India in the last two months on creating awareness amongst the traders on Goods & Services Tax, has estimated that about 70 per cent of the country's retail trade has not been linked to computers and digitised.
Financial inclusion
For a comprehensive policy, the government will take inputs from stakeholders such as e-tailers, brick and mortar traders, direct sellers, hawkers, self-help groups and digital technology providers, consumer associations, financial institutions as well as payment networks.
The proposed policy, aiming to generate employment, improve financial inclusion of small traders and ensure ease of doing business by eliminating multiplicity of approvals, will also be linked to the NDA government's flagship initiatives such as Digital India, Skill India and Make In India.
According to a proposal recently submitted by CAIT to the commerce & industry ministry, "the need of the hour is creation of a Trade Policy with a separate Ministry of Internal Trade both at (the) Centre and State Government level which is able to device (a) policy for traders…
"With the current approach and policy regime, the environment is only conducive for foreign retail giants and their Indian partners or counterparts."
As an immediate measure, a panel led by NITI Aayog CEO Amitabh Kant will soon take up these issues as well and will look into issues related to taxation and online pharmacies.