PRETORIA, Sept. 15 (Xinhau) — South Africa is still experiencing a sluggish economic growth owing to both domestic and international factors, the country's central bank said on Tuesday.
In its Quarterly Economic Review, the Reserve Bank of South Africa (SARB) said that in the second quarter of 2015 the real gross domestic product contracted at an annualized rate of 1.3 percent, thereby reversing the gains of the positive growth in the first quarter of the year when the economy had increased by 0.3 percent.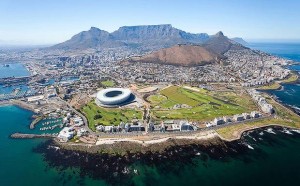 "South Africa's economic condition is not quite inspiring at this point in time as a result of huge run in the share prices in China and the general weak global economy. We are waiting with abated breath for the U.S. policy announcement to be made whether there will be a change in the interest rate," said Dr J.P van den Heever, a financial analyst who did the research on behalf of the SARB.
This pedestrian growth was partly caused by the further decline in the international price of commodities, he said.
The real output of the mining sector fell by 6. 8 percent in the second quarter because of weak global demand and short supply of electricity, among others, according to the review.
Output of coal declined due to striks and the mild winter temperatures. The iron ore production was also down due to weak demand after the international price decline and oversupply of steel.
"Agriculture was also one of the biggest negative because of lack of rain which led to the decline in production which is bad news to the economy. In the manufacturing sector there were demand weaknesses," Heever said while releasing the review in Pretoria.
Financial events in China, the biggest trading partner, also negatively affected South Africa. During the period under review, Chinese share prices fell, making global markets more volatile.
These and other factors resulted in the South African rand and other currencies of emerging markets depreciating against the major currencies like the U.S. dollar.
The bank also noted that there was decline in the receipts from visitors to the country as a result of stringent measures in the country's immigration laws.
Professor Nicola Viegi, an economist from the University of Pretoria, told Xinhua that the report does not come as a surprise with the current global economic performance.
Veigi said, "This confirms that the situation is critical and uncertain. We will wait to see if there will be a social response to solve the situation. There is however a positive investment in corporation which will benefit the country in future."
Veigi said the situation is currently subdued and not easy to predict the future as that depends on the cocktail of factors, internally and externally.
He stated, "It's difficult to say how the future looks like. It's positive that the inflation is under control but the future depends on how the international markets will perform. The international situation in the Chinese markets and the U.S. policy announcement will have an impact on the economic growth. At the moment the situation is uncertain."