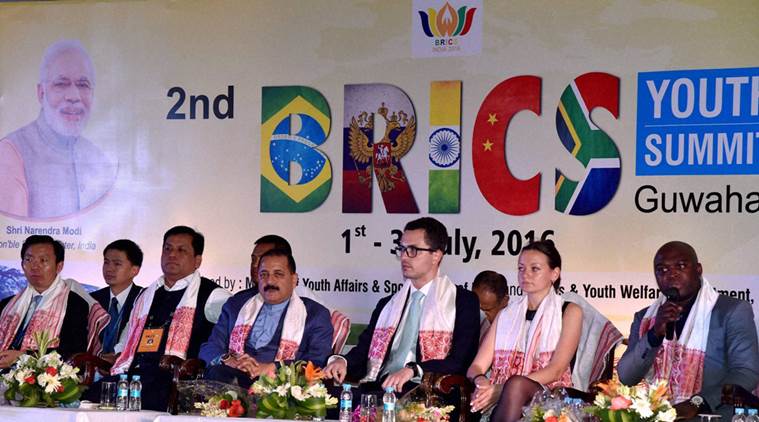 GUWAHATI: The second BRICS Youth Summit has called for shifting of power from the West to the member countries to maintain balance in the world, as the conclave concluded today.
The three-day summit adopted the 'Guwahati BRICS Youth Summit 2016 Call to Action' and urged the youth of the five member nations to come together for working towards this goal.
Adressing a press conference here, South African Team Leader Khathulshelo Ramukumba said, "The youth of our nations can suggest how the demographic dividends of us can be used to shift the power from the West to the BRICS.
"There is an urgent need for working collectively towards this goal," he stressed.
"It is encouraging that the young people are ready and hungry to be citizens of a better nation," Ramukumba said.
Russian Minister Sergey Pospelov said a virtual secretariat of the BRICS Youth Forum will be operational shortly.
"That will enable the members to remain in touch 24×7 through social networking, which will take the cooperation to the next level," said Pospelov, who led the Russian delegation at the conclave.
Brazilian delegation leader GF Alves Pereira and Chinese team leader Dong Du said the Guwahati Summit was a good forum for the youths to float new ideas and the participation was encouraging.
Rajeev Gupta of India said the Guwahati resolution will be placed before the BRICS Summit at Goa in October this year for its final incorporation.
During the summit in the last three days, series of discussions were held on four thematic areas — skill development and entrepreneurship, social inclusion, youth volunteerism and youth participation in governance.
Meanwhile, Russia has invited the orchestra team of Gauhati University to perform at the International Festival of Youths and Students in the European nation next year.
Pospelov said the performance of the orchestra team of Gauhati university at the Summit last evening impressed the audience very much.
He also spoke of his meeting with Assam Chief Minister Sarbananda Sonowal last evening, when both discussed a range of issues.
Pospelov said common issues like agriculture and tourism were discussed.