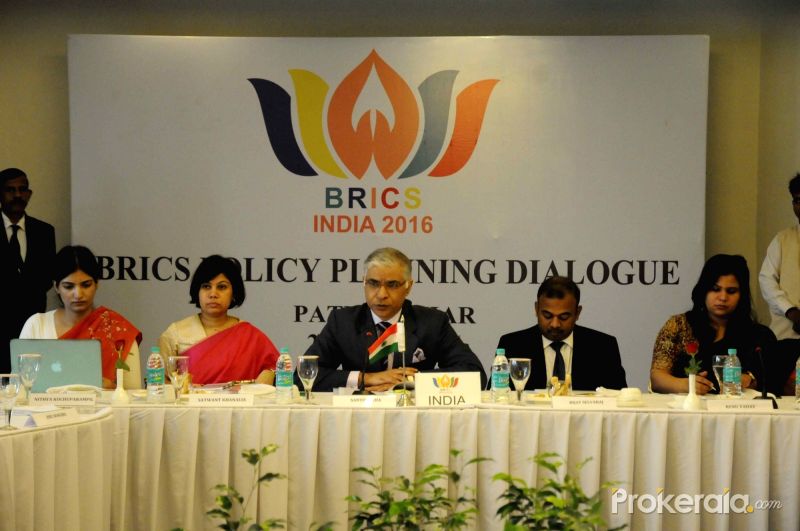 BRICS Policy Planning dialogue successfully concluded here today with fruitful exchanges of strategic assessments of international situation and the regional situation of each member country.
"The delegations discussed the role of BRICS in international governance, ongoing cooperation at BRICS Forum and reflected on areas of convergence among BRICS," a Ministry of External Affairs (MEA) release said here on conclusion of the five-nation meeting.
The dialogue gave an opportunity for sharing of best practices in foreign policy planning and assessment between the BRICS countries.
MEA hosted a day-long BRICS policy planning dialogue here where representatives of BRICS nations – Brazil, India, China, Russia and South Africa – met and discussed on a wide range of global issues and of mutual interest.
The dialogue in Patna is part of the preparation for BRICS summit to be held in Goa in October this year.
The quality and scope of discussions affirmed the significance of the voice of BRICS, as it is a grouping that brings together five major world economies that are home to 43 per cent of the world population, MEA release said.
The discussions would contribute towards India's objective as Chair of BRICS for 2016 to further consolidate Intra-BRICS cooperation by adopting a five pronged approach of 'IIIIC or I4C', it said.
The I4C approach is: i) institution building to further deepen and sustain BRICS cooperation, ii) implementation of the decisions of previous Summits including PM's announcements at the Fortaleza and Ufa Summits, iii) integrating synergies among the existing cooperation mechanisms, iv) innovation, i.e. new cooperation mechanisms and v) continuity, i.e. continuation of mutually agreed existing BRICS cooperation mechanisms.
During their stay in Patna, the heads of delegations called on Governor Ramnath Kovind and Chief Minister Nitish Kumar.
Some of the delegations also took the opportunity to visit historic places of interest in the vicinity of Patna such as Nalanda and Rajgir.