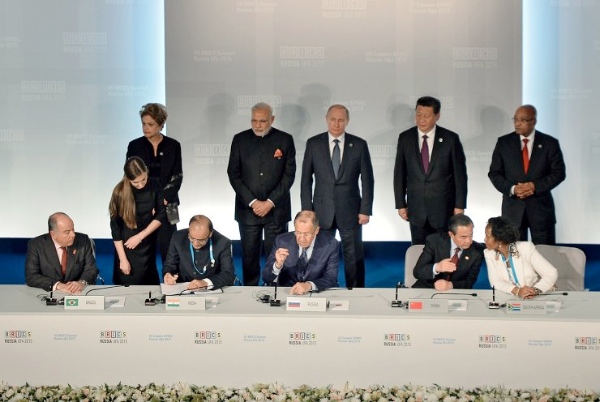 BRICS members made their first contributions worth a total of $750 million to the capital of the New Development Bank BRICS, an official statement said on Thursday.
According to the report, the tranches to the bank's capital were paid in accordance with the lender's agreement signed during the BRICS Summit last year.
The NDB is expected to compete with institutions where the US has considerably more influence—organizations such as the World Bank and the International Monetary Fund.
The contribution to the bank's capital stock is made through paid up capital, which is directly transferred to NDB, and subscribed capital, which shareholders provide in case it is needed. Paid up capital is the key asset for the development bank, the report said. It is expected to total $10 billion to be paid through 7 tranches. The new lender's subscribed capital will total $40 billion.
The bank has an initial authorized capital of $100 billion.
It will have a three-tier governance structure — a board of governors, a board of directors, a president and vice presidents.
The BRICS countries are the key suppliers of raw materials for the global economy, Chinese Vice Finance Minister Zhu Guangyao said at the 4th Economic and Financial Forum of BRICS Countries that was held in Beijing on Tuesday.
"Emerging economies, including the BRICS countries, are a new force. Their aggregate gross domestic product exceeds 20 percent of total global GDP. By 2020, these countries will account for about 25 percent of the global economy," Zhu Guangyao said.
Zhu Guangyao also said that pessimistic forecasts of the BRICS countries' development were largely based on the overall downward trend in global economic growth. "We are facing new challenges but we also have new opportunities that will require the strengthening of our cooperation and the pooling of our efforts," the Chinese Vice Finance Minister said.
The BRICS Bank will also soon set up a hotline with the new China-led Asian Infrastructure Investment Bank.