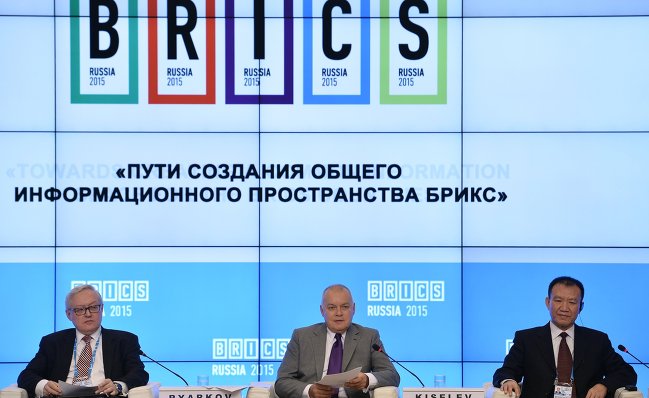 The forum of the heads of the BRICS countries' leading media outlets "Towards Creating a Common Information Space for the BRICS Countries" took place in the Rossiya Segodnya International Multimedia Press Centre on 8 October. The participants discussed this issue and many other topics.
In exclusive interviews for the official website of Russia's Presidency in BRICS, the heads of the key media of Brazil, Russia, India, China and South Africa unanimously expressed their support for the consolidation of ties between the major media outlets of their countries and exchange of information and experience. Jimi Matthews, Head of SABC News and Current Affairs (South Africa), said a common information space for the five BRICS countries is especially important now because there are many geopolitical issues that may be resolved, among other methods, by cooperation among the different media of the BRICS countries.
The development of contacts between their key media will also facilitate mutual understanding between states and enhance the awareness of their population of the cultural particularities of each state. Denize Baccocina, Executive Superintendent for News Agencies and Digital Content, Empresa Brasil de Comunicação (EBC), Agencia Brasil, said: "By exchanging information via international news agencies we will not only learn more about each other but will also find a way of receiving news directly rather than from outside sources."
A common information space of the BRICS countries will help reach one of the association's major goals of creating a multipolar world with free access to different viewpoints. Bijendra Singh, Head of the International Desk at Sahara Samay (India), said the media can play a very important role in creating objective and full news coverage. He said that one-sided coverage currently prevails, as in the case with reports about the crises in Ukraine and Syria. Mr Singh emphasised that the BRICS media may become a competitive alternative for their Western counterparts.
China Daily's Deputy Editor-in-Chief Gao Anming also focused on the fact that the positions and views of large countries, such as China and Russia, on important global events, are insufficiently presented to wide audiences. "The positions of our countries, especially Russia and China, are insufficiently covered by international media, because of the existing world order, dominated by developed economies," he said, adding that joint efforts by BRICS countries to participate in joint projects will allow the world to hear and understand the position of all five states. "The world is diverse, and the media market is dominated by developed countries," he said. "However, developing countries should also be able to express their will, rather than follow someone else's."
Heads of the BRICS media space agreed that existing mechanisms and relations between the media of the five BRICS nations are not enough to create a full-fledged information space. Jimi Matthews, head of SABC News and Current Affairs, emphasised that this situation was a major flaw of the BRICS media community. According to him, reporters touch upon the BRICS activities, cover its events and forums, but there are no specialists dealing exclusively with BRICS-related coverage. Creating such a group should be a common goal, he said, drawing on his experience in the way BRICS activities are covered in South Africa.
According to the heads of the leading BRICS mass media, bilateral projects could be the first step on the way towards changing the status quo. For example, in 2014, China Daily established a joint project with Rossiyskaya Gazeta, in which photographers from Russia and China covered events in Russia. The editor-in-chief noted that the project will be extended for next year. According to Agencia Brasil's Denize Baccocina, Russia and Brazil also enjoy close bilateral cooperation.
The enormous potential of BRICS in the sphere of media coverage mentioned by Jimi Matthews has not yet been fully tapped. According to Gao Anming, some activities of BRICS need to be popularised among wide audiences. "I was struck by the Ufa Declaration, which reflects the positions of all five countries on a wide range of issues," he said. "However, in my opinion, this document was not properly covered by Western media. We could start working in this area in order to provide better coverage of the document, and tell the world about our unique position and our values, which would be very useful in resolving issues such as the crisis in Syria."
During the forum, the heads of leading mass media of the five BRICS nations made an important step toward forming a common information space. They signed memoranda of intent to create a BRICS newswire and radio network, which will cover the agenda of the multipolar world.