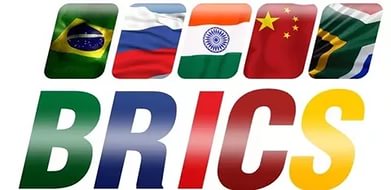 Russian Foreign Minister Sergey Lavrov delivers a speech during the BRICS Global University Summit at the Moscow State Institute of International Relations, also known as MGIMO, in Moscow, Russia October 27, 2015.
BRICS as a union "does not impose anything on anyone," because it does not have the bloc discipline inherent in military-political alliances, says Russian Foreign Minister Sergey Lavrov.
The BRICS countries, Brazil, Russia, India, China and South Africa, together disagree with "attempts to solve problems from a position of strength, interference in internal affairs, pressure of some countries on others, including the imposition of unilateral sanctions," Lavrov said, speaking at BRICS academic summit on Tuesday.
Lavrov said cooperation in "economics, trade, finance, science and technology" within the group is growing. In September BRICS members discussed unification of international efforts to combat terrorism and extremism, Russia's top diplomat added.
"The aggravation of the conflict in the Middle East and North Africa took place due to the weakening state institutions in the region, partly as a result of aggressive outside interference," said Lavrov.
"The attempts… to overthrow undesirable regimes have led to a breakdown of security mechanisms, chaos, anarchy; they are posing a risk that states would collapse and their territories would be seized by terrorists," said the head of the Russian Foreign Ministry.
It is expected that BRICS leaders will meet next on the sidelines of the G20 summit in Turkey on 15-16 November. According to Lavrov, the five member countries will discuss the "reform of the world monetary system, as well as economic and humanitarian cooperation."
BRICS comprises about 30 percent of world's GDP in PPP terms and is projected to increase to as much as 45 percent by 2030. The union already accounts for 17 percent of world trade.