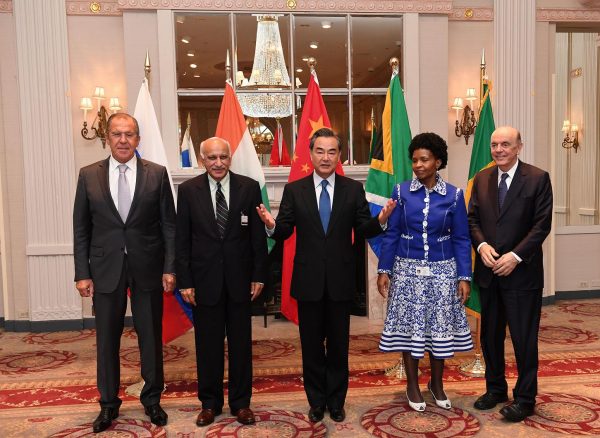 Chinese Foreign Minister Wang Yi has praised fellow BRICS member nations for their combined efforts to push for a political solution to the Syrian Civil War but urged the bloc to work diligently to preserve world peace and help promote global growth.
Speaking following a meeting with BRICS foreign ministers on the sidelines of the United Nations General Assembly in New York, Wang said: "We need to continue to be an advocate for using peaceful means, including dialogue and negotiation, to solve global hot spots."
Russian Foreign Minister Sergei Lavrov seized on Wang's statement and said that the BRICS members are fully capable of working toward establishing a fairer and more just international order, with better coordination on key political and economic issues.
His comments come amid tension between Russia and the US over the war in Syria, with both sides blaming the other for recent violence – including the US aerial bombardment of Syrian troops and Washington's accusation that Moscow bombed an aid convoy – and the imminent collapse of a week-old ceasefire.
According to a press release following the meeting of the foreign ministers yesterday, the BRICS nations expressed alarm about the deterioration of stability in the Middle East.
"The international community should work together to pave the way for the political settlement of conflicts through dialogue and negotiations," the press release said.
The BRICS countries also highlighted Russian efforts "aimed at achieving a political solution to the international crisis in Syria including Russia-US arrangements agreed upon in Geneva on September 9, 2016".
But the ministers also exchanged views on the recent Hangzhou G20 summit hosted by China, cooperation in fighting terrorism, the 2030 agenda for sustainable development, and climate change.
Wang stressed that BRICS support helped ensure the success of the G20 summit but also called on members of the bloc to "take the lead in implementing the agreements reached at the summit while remaining an engine for global economic growth".
Their press release "acknowledged the significant outcomes of the G20 Summit, and called for their full implementation, including in the areas of sustainable development goals, climate change, and on innovation and structural reform as drivers of future economic growth".