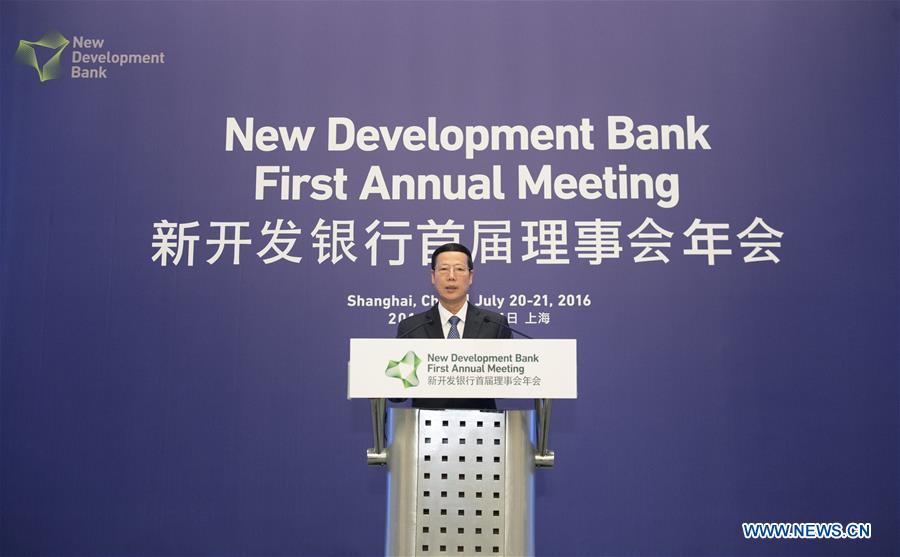 THE New Development Bank, a multinational financial institution backed by BRICS, aims to tap its expertise to promote economic cooperation among emerging nations, and plans to invest in the private sector next year, the bank said yesterday.
"BRICS nations have strong complimentary advantages in resources and industrial structure, which provide huge room for cooperation," Chinese Vice Premier Zhang Gaoli said at the opening ceremony of the bank's first annual meeting in Shanghai yesterday.
"NDB should leverage its expertise to provide fund and intellectual support for infrastructure construction and build closer trade, industrial and economic ties among the emerging countries."
As the infrastructure development in developing countries is still weak and the lending capability of existing multinational institutions is limited, NDB should invest wisely and use infrastructure projects to promote industrial integration of BRICS, Zhang said.
The two-day meeting brought together Brazil, Russia, India, China and South Africa to talk development strategy as well as opportunities and challenges for the bank after its first year of operation.
Chinese Minister of Finance Lou Jiwei said NDB should develop local-currency services to provide low-cost funding for member countries.
The bank said on Tuesday that it had issued its first yuan-denominated green bonds worth 3 billion yuan (US$450 million) in China's interbank bond market. The proceeds will be invested in four renewable-energy projects in Brazil, India, China and South Africa that was decided by the board in April, and a hydro-power generation project in Russia that was passed during the NDB's annual meeting.
Institutional investors who participated in the green bond booking told Shanghai Daily that there may be a surge in such bond issues.
K.V. Kamath, president of the bank, said the lender will look into co-financing projects with other lenders, including the Asian Infrastructure Investment Bank, and issue local-currency bonds in each member country.
The Shanghai-based multilateral bank, which started operating last July, has extended its first batch of loans of over US$800 million in April to renewable-energy projects.