A plunge in the Ibovespa from this year's peak put the equity gauge on the brink of a bear market amid forecasts Latin America's largest economy is headed toward the longest recession since the 1930s.
The stock benchmark extended its slump since May 5 to almost 20 percent as lender Itau Unibanco Holding SA and oil producer Petroleo Brasileiro SA tumbled. Traders have been pulling money from Brazil on concern President Dilma Rousseff will struggle to revive the economy, curb inflation and narrow the budget deficit amid a political crisis. The real posted the second-biggest decline among 16 global major currencies.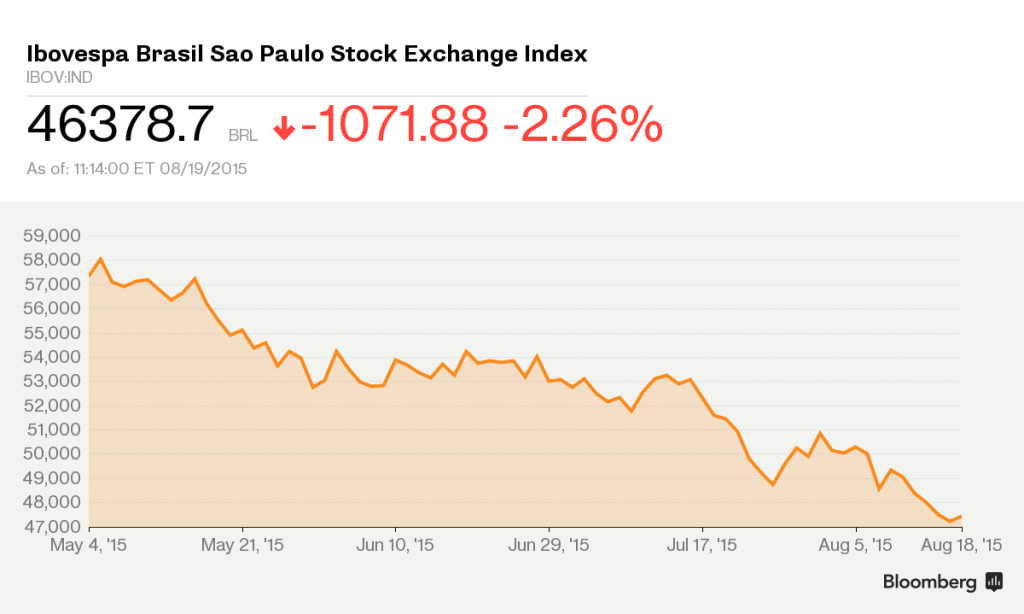 Investors are turning bearish as the central bank has signaled it will hold interest rates at a nine-year high even in the face of a recession. Rising borrowing costs are slowing down consumer purchases, pushing Rousseff's approval rating to record lows and dimming prospects for corporate earnings. To make matters worse, emerging markets have joined a selloff in commodities since China's yuan devaluation last week.
"It's almost the case of 'pick your poison,'" said Nicholas Spiro, the managing director of London-based Spiro Sovereign Strategy. "Brazil is being hit from all directions. The very bleak external backdrop is amplified by all this domestic vulnerability."
The Ibovespa fell 1.8 percent to 46,588.39 at the close of trading Wednesday, the lowest level since March 2014. State-run lender Banco do Brasil SA sank to a three-year low on plans to aid the automaker industry at a time when revenue has trailed analysts' estimates for three straight quarters. The real dropped 0.7 percent to 3.4924 per dollar. Brazil's bond risk, as measured by credit-default swaps, approached the highest in six years.
Bearish Bets
Bets on further declines in Brazilian shares climbed to a record this month, underscoring investors distrust in government measures to shore up the budget and boost growth. Analysts surveyed by the central bank predict the economy will post the longest recession since the 1930s. A simmering corruption investigation at oil company Petrobras and allegations that Rousseff's administration fudged last year's fiscal accounts have fueled calls for her impeachment.
Brazilian markets slumped on Wednesday as Rousseff's effort to avoid a junk credit rating suffered another setback after the lower house approved a bill to double the yield on a workers' severance fund. Finance Minister Joaquim Levy said earlier this month that the legislation may have a negative impact on the ability to fund other government programs.
'Very Delicate'
"At this very delicate time, any increase in spending goes against Levy's plan to shore up deficits," Camila Abdelmalack, an economist at CM Capital Markets, said from Sao Paulo.
Moody's Investors Service cited lack of political consensus on attempts to repair government finances as well as a faltering economy when it lowered Brazil to the lowest level of investment grade last week. Standard & Poor's last month cut its outlook for the nation, moving a step closer to reducing its credit rating to junk.
The country's economy will contract 2.01 percent this year and 0.15 percent in 2016, according to estimates from a central bank survey of analysts published Monday.
Stocks also joined a global rout as prospects for higher U.S. interest rates and a slowing Chinese economy pushed the MSCI Emerging Markets Index to the lowest level since 2011.
Soured Loans
All 10 industries in the MSCI Brazil Index have dropped this year, with financial companies poised for the worst annual decline since 2008. Banks have slumped amid concern that a government decision to boost taxes on the industry's profits will erode earnings. Itau, Latin America's largest bank by market value, said on Aug. 4 that delinquencies rose for the first time in 11 quarters and bad-loan provisions climbed.
Banco do Brasil sank as much as 6.2 percent on Wednesday, while Itau tumbled to the lowest level since March 2014. Petrobras extended a five-day plunge to 11 percent.
The cost of protecting Brazil's bonds against nonpayment using five-year credit-default swaps rose to 3.14 percentage points, the highest since Aug. 10. The measure jumped to a six-year high earlier this month.
Brazil is close to hitting its longest stretch ever without selling new bonds abroad. The Treasury hasn't sold new notes in international markets since its $1 billion issue of 2025 bonds in September 2014. If the government doesn't tap international markets by Sept. 23, it will break its record bond drought of 384 days ended in April 2003, when concern over the election of then-President Luiz Inacio Lula da Silva reduced foreigners' appetite for new notes.
Waiting Mode
"The Treasury has shown it's waiting for favorable conditions to sell bonds in international markets," said Bruno Rovai, Brazil economist at Barclays Plc in New York.
Swap rates, a gauge of expectations for Brazil's borrowing costs, dropped 0.07 percentage point to 13.80 percent on the contract maturing in January 2017.
With Brazil's real leading losses among major global currencies in 2015, international investors in the Ibovespa are feeling the pinch even as stocks hold up in local-currency terms. The stock gauge has plunged 30 percent this year in dollar terms, the most among the world's biggest equity markets. That compares with a 6.8 percent decline in reais.