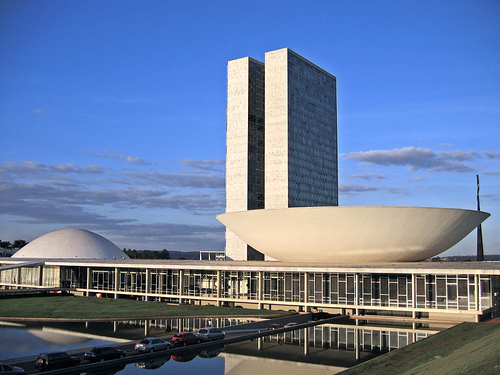 Brazil's Congress approved a watered-down bill to increase taxes on capital gains, giving the government less help than it had wanted in its struggle to shore up fiscal accounts.
Senators voted 56 to 11 in favor of the bill Tuesday night, sending it on to President Dilma Rousseff. She can sign it into law or veto it. The lower house approved the legislation earlier this month by 205 to 176.
The proposal raises taxes on capital gains from the sale of real estate and corporate assets, changing the rate as of 2017 from a flat 15 percent to a progressive scale with a top rate of 22.5 percent.
The government originally proposed a sliding scale that topped out at 30 percent, which supporters said would have boosted fiscal revenue by an estimated 1.8 billion reais ($450 million) a year. But the lower house and Senate approved a modified version of the legislation that is expected to bring in 900 million reais per year.
The Rousseff administration introduced the legislation as part of its strategy to boost revenue and narrow a record budget deficit. She already is running into trouble this year as the recession cuts into tax collection efforts. As a result, Standard & Poor's this month cut Brazil's debt rating deeper into junk territory and the government said it would ask Congress for permission to post a deficit before interest payments for the third-straight year.
Brazil's fiscal deterioration has sparked a selloff of local assets. The real depreciated 29 percent in the past 12 months while the Ibovespa stock exchange index dropped 17 percent.