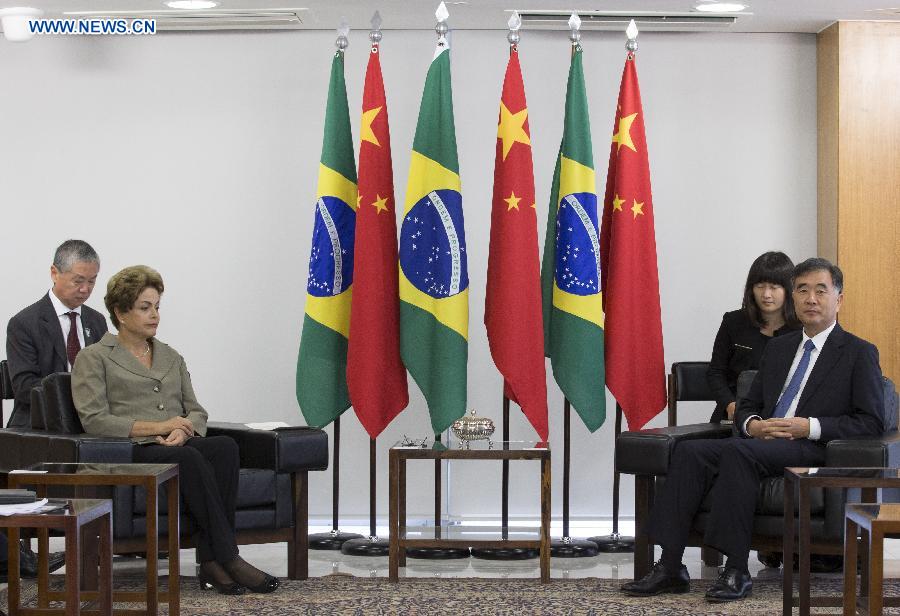 BRASILIA, June 27 (Xinhua) — Brazilian President Dilma Rousseff met with visiting Chinese Vice Premier Wang Yang on Friday in efforts to boost ties between their two countries.
Wang said Chinese President Xi Jinping's visit to Brazil last year outlined a blueprint for bilateral relations, while Premier Li Keqiang's visit to the country last month injected new impetus into their pragmatic cooperation.
He called for concerted efforts to implement the important consensus reached by the leaders of the two countries.
Both sides should work together to stabilize bilateral trade volume, strengthen cooperation in investment, production capacity, infrastructure, finance and agriculture in a bid to further boost their pragmatic cooperation, said Wang.
Efforts should also be made to improve people-to-people exchanges and enhance coordination in international affairs, he said.
Rousseff spoke highly of the successful visits to Brazil by President Xi and Premier Li, saying the visits have consolidated the comprehensive strategic partnership between the two countries.
Rousseff praised the efforts made by the China-Brazil High-Level Coordination and Cooperation Committee (COSBAN), which she said have effectively boosted bilateral pragmatic cooperation.
Brazil attaches great importance to relations with China and would like to expand bilateral trade and investment cooperation with the country, said the president.
Wang and Brazilian Vice President Michel Temer co-chaired the fourth meeting of COSBAN on Friday.
Noting that China has been Brazil's largest trading partner for six years, while Brazil has been listed among the top 10 trading partner of China for five consecutive years, Wang said the major task of the current COSBAN meeting is to push for pragmatic cooperation between the two countries.
The two sides agreed to set up a 20-billion-U.S. dollar common fund to bolster cooperative projects in boosting production capacity in China and Brazil.
They also agreed to match up their lists of priority areas and specific projects in bilateral production capacity cooperation.
Experts from the two countries conferred on the work plan for building a transcontinental railway envisaged to traverse Brazil and Peru and link South America's Atlantic and Pacific coasts, and agreed to start field survey.