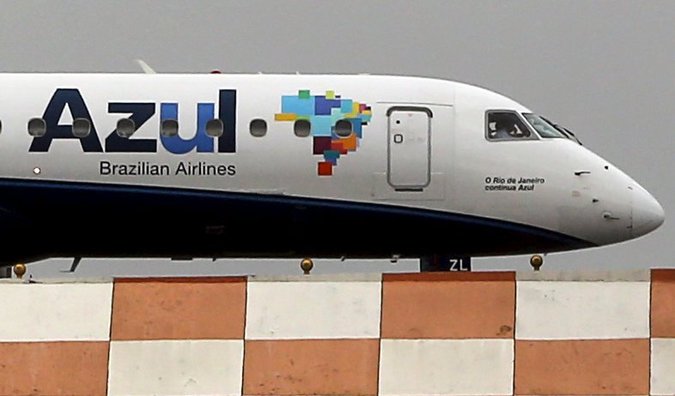 SÃO PAULO, Brazil — JetBlue's founder, David G. Neeleman, has turned to China to raise funds for his Brazilian airline, Azul Linhas Aéreas Brasileiras.
The airline announced on Tuesday that it had sold a 23.7 percent stake to HNA Group of China for $450 million.
HNA, which earlier this year bought Swissport International, an air cargo services company, for $2.8 billion, owns China's Hainan Airlines. It is also active in hospitality, retail and financial services. It had about $28 billion in revenue last year.
It is Azul's second time turning to China for capital this year. In May, it raised $200 million from the Industrial and Commercial Bank of China, and a company spokeswoman said that it planned to raise an additional $200 million from Chinese banks before the end of the year.
Chinese companies may be ramping up their interest in Brazil. Petrobras signed a deal in May for $10 billion in funding from the Chinese banks, then arranged another $2 billion in October.
And China Three Gorges, a utility company, is expected to bid in a multibillion-dollar auction of electricity generation concessions scheduled for Wednesday morning.
"We are seeing significant inbound acquisition opportunities into Brazil in recent months from Chinese entities and investors and expect this to continue as Chinese companies look to expand their influence around the globe," said Stuart K. Fleischmann, a partner at Shearman & Sterling who acted for Azul on the HNA investment.
Azul is not just looking to China. The company also sold a 5 percent stake to United Airlines for $100 million in June, and a spokeswoman said Tuesday the company still planned to hold an initial public offering, already delayed three times, when market conditions improve.
Mr. Neeleman, an American born in Brazil while his father was a journalist here, founded Azul in 2008. The airline has received funding from the private equity firms TPG Growth, Weston Presidio, Bozano, Fidelity, Zweig-DiMenna and Peterson Partners.
It has since grown to become Brazil's third-largest airline, but after years of rapid growth in the sector, Brazil's recession has finally started to take a toll on airline passenger transport, which in August started to decline.
But Mr. Neeleman has been using Azul as a base to expand internationally.
In June, Mr. Neeleman partnered with the Portuguese investor Humberto Pedroso to buy a 61 percent stake in Portugal's national airline, TAP, in return for assuming TAP's debt of 1.06 billion euros and a promise to inject at least 338 million euros in cash.
And Mr. Neeleman said in a statement on Tuesday that the deal with HNA "might result in the company entering the Asian market through interline and code-share agreements."
Azul's only current international destination is the United States. It operates daily flights from Brazil to Orlando and Fort Lauderdale.
Seabury Securities advised Azul and UBS and Bravia Capital advised HNA on the transaction.