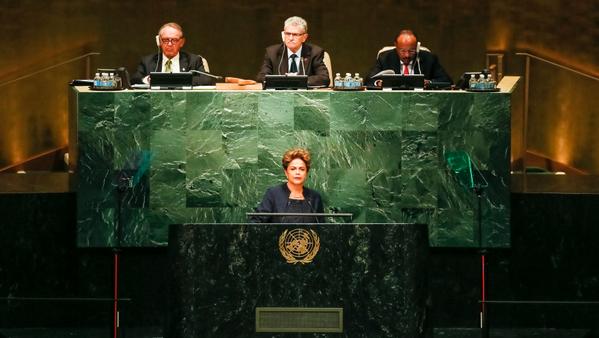 In her UNGA address on Sunday, Brazilian President Dilma Rousseff pledged to slash Brazil's greenhouse gas emissions by 37 per cent.
"The contribution of Brazil will be a reduction of 37% of its greenhouse gas emissions by 2025. Our ambition is to reach a reduction of 43% by 2030. The base year in both cases is 2005," said Rousseff.
Outlining her vision for a global climate change agreement on Sunday, Rousseff stressed on the importance of a "common response".
"Our obligations should be ambitious and consistent with the principle of common but differentiated responsibilities. The Paris Conference is a unique opportunity for us to shape a common response to the global challenge of climate change," the President said.
Brazil's "energy mix is among the cleanest in the world" she claimed while adding that Latin America's biggest economy has "reduced deforestation in the Amazon rainforest by 82%".
"Brazil is one of the few developing countries to commit to an absolute goal for emissions reduction. In spite of having one the world's largest populations and GDPs our goals are just as ambitious, if not more so, than those set by developed countries," Rousseff noted.
As governments begin to seek the trillions of dollars needed to help achieve new sustainable development goals, Rousseff reminded global leaders on Sunday that "poverty is a multidimensional phenomenon".
"In the transition to a low-carbon economy, it is important to secure dignified and fair conditions for workers. Sustainable development requires us to commit to the promotion of decent work and the generation of quality jobs and opportunities."
"This is the future we want. This is the future we are building," she said.
"The efforts to eradicate poverty and promote development must be collective and global. In my country we know that the end of poverty is only the beginning of a long journey," she added.
The UN officially adopted a new set of post-2015 global goals this week.
The road map's goals are expected to cost between $3.5 trillion and $5 trillion every year until 2030.
The new agenda consists of 17 goals designed to end poverty and hunger by 2030.