By Lise Alves, Senior Contributing Reporter
SÃO PAULO, BRAZIL – Automotive production in Brazil fell by 25.6 percent in May in comparison to the same month last year and by 3.4 percent in relation to April of 2015, according to data from Anfavea (National Automotive Manufacturing Association). The accumulated contraction from January to May is now at 19.1 percent. The decline in production is a result of the weak auto sales results for the first five months of the year, which were 20.9 percent lower than during the same period last year.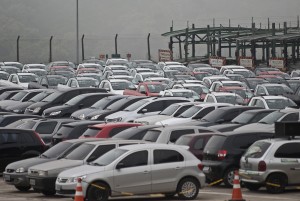 Although sector analysts were expecting a decline in vehicle production and sales, the latest data was a surprise. "The results were much lower than our forecasts," Anfavea president Luiz Moan was quoted as saying to Agencia Brasil. "The volume of sales represented a return to the results seen in May of 2007," he added. According to the Anfavea official production returned to levels seen in 2005.
For Moan the decline in sales was influenced by the decline in consumer confidence during these first months of the year and a tightening of credit.
With the decline in sales and production came a wave of furloughs, lay-offs and collective vacations. According to the manufacturing association, there was a 9.2 percent reduction in the number of employees in the auto production sector in May of 2015 in comparison to the same period last year. The official stated that today there are more than 25,000 auto production employees on leave (paid and unpaid).
The segments most affected were trucks, down by 51.4 percent in the five month comparison, and buses, with a decline of 31.6 percent in production.
But while automotive sales within Brazil are gloomy, exports registered a growth of 16.4 percent in May 2015 in comparison to the same period last year, and an increase of 41.7 percent in comparison to April of 2015.