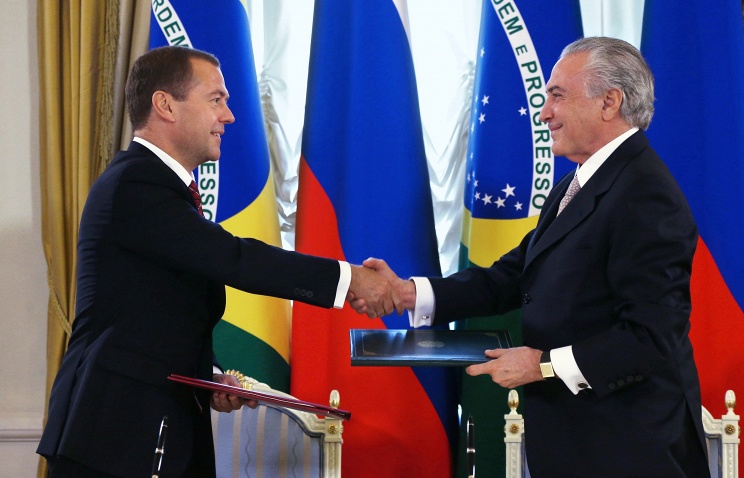 A Glonass navigation system facility is planned to be built in the Rio Grande do Sul state.
Brazilian authorities attach major importance to the development of relations with Russia, especially in the sphere of the use of the global navigation satellite system GLONASS and in the defense sector, Brazilian Vice President Michel Temer said on Wednesday.
"I think we are successfully advancing on the path to using the Russian GLONASS system in Brazil. To this end, a facility of the system is planned to be built in the Rio Grande do Sul state," Temer said at the seventh meeting of the Russian-Brazilian high-level cooperation commission.
He also said the two countries' space agencies also have cooperation plans. "It is planned to create to this end a joint branch of these agencies in a Brazilian locality," he added.
"We need to develop our cooperation also in the defense sphere. I have repeatedly said that the defense issues are no less important for us than the economy," Temer said.
According to him, one of the commission's tasks is to boost contacts between businessmen from the two countries. "A very important task is to create a favourable climate for the expansion of mutual investment, as well as to determine where the investment should be made. Above all, in infrastructure projects and the construction of ports," Temer said.
He also said it was necessary to improve efficiency of the work of the joint business councils.
According to the Brazilian vice president, boosting the bilateral trade turnover to $10 billion a year is the top priority at present.
"Cooperation in the sphere of high technology and energetics is a key to the development of our trade and economic partnership," he said.
Temer also said he intended to compare notes with the Russian side on the international agenda issues.
"We are again raising the issue of Brazil's presidency in the UN Security Council, and our strategic goal is getting the UN Security Council permanent member status by Brazil sometime in the future," he said.