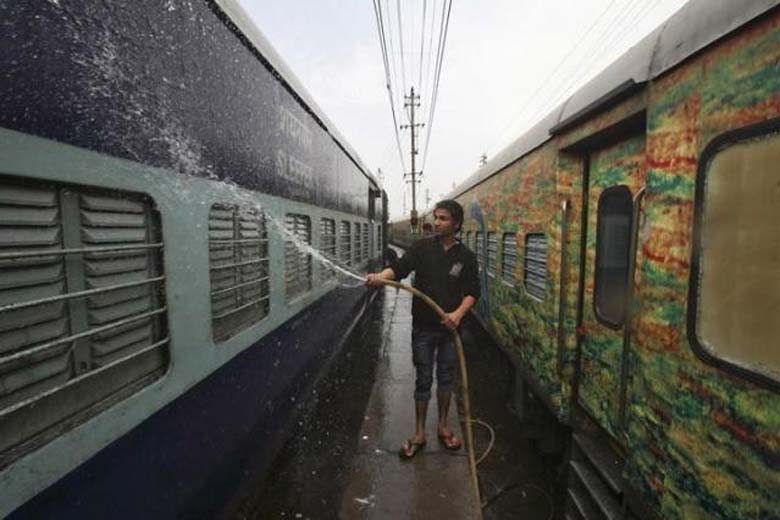 Beijing has been pushing India to accelerate work on a multi-billion dollar rail link from New Delhi to Chennai ahead of Prime Minister Narendra Modi's visit to China this week, as the Asian giants put economic ties before regional rivalries.
China, which is conducting a feasibility study into a $36 billion bullet train project from the capital in the north to Chennai in the south, has asked for work to begin on a pilot project covering part of the route, officials said.
The two sides have also agreed to speed up implementation of a shorter high-speed rail corridor from Chennai to Bengaluru, as China seeks to cash in on Modi's vision of modernising a creaking train system that 25 million people use daily.
Such cooperation could help ease tensions between the neighbours caused by a Himalayan border dispute and Chinese naval forays into the Indian Ocean as well as India's strategic tie-ups with Japan and the United States.
Modi and Chinese President Xi Jinping are expected to address the border issue, a major irritant that overshadowed Xi's visit to New Delhi last year and has proved impossible to resolve despite 13 years of negotiations.
But progress on the economic front is more likely, officials said, as China eyes a greater share of India's $2 trillion economy. Thanks in part to a statistical revision, India is now the world's fastest growing major economy, outstripping China.
Modi, who arrives in China on Thursday, appears happy to encourage such investment, despite reservations among India's powerful security community which has not forgotten a brief border war the countries fought in 1962.
"Modi is abandoning the old approach to China," said C. Raja Mohan, an influential Indian foreign policy analyst.
"He has recognised that India can't construct a serious business relationship with China, the world's second largest economy and a major exporter of capital, by giving the security establishment a veto over economic policy," he added.
$10 BILLION IN DEALS
China's ambassador to India, Le Yucheng, told CNN-IBN television that deals worth $10 billion were expected to be signed during Modi's three-day visit.
He urged the Indian government to focus on cutting red tape to ease investment flows, the channel said in a press release.
During Xi's visit to India last year, China announced $20 billion in investments over five years, including setting up two industrial parks.
Since then progress has been slow, in part because of the difficulties Modi has had in getting political approval for easier land acquisition laws.
Only a fifth of the necessary land has been acquired for a $5 billion industrial park in the western city of Pune that the two sides announced last year, said a Chinese official.
In Modi's home state of Gujarat, only 28 percent of the land has been purchased for a proposed $1.8 billion Chinese-built industrial park in Vadodara.
That is not likely to blunt China's appetite for investments in India, according to experts.
"China's attitude toward this investment is extremely positive," said Ma Jiali, executive deputy director of the China Reform Forum's Centre for Strategic Studies and an India expert.
RAIL IN FOCUS
Japan and France are the other countries bidding for a share of modernising India's rail system, the world's fourth largest, in which India is seeking investment of $137 billion over the next five years.
Indian Railways Minister Suresh Prabhu said last week that India and China were finalising agreements in the rail sector in the run-up to Modi's visit.
Prabhu gave no details, but a railway official said India was considering a Chinese proposal for a pilot project on the Delhi-Agra stretch of the proposed 1754 km high-speed corridor to Chennai running through the heart of India.
"China has been asking that they start work up to half-way along the line even while the feasibility study is going on," the official said, adding that a memorandum of understanding could be signed during Modi's visit.
China has offered to provide India financing for building the high-speed network.
A notice on China's national railway bureau website last month said a delegation visited India from April 25-29 at the invitation of India to talk about accelerating the Sino-Indian railway cooperation document.
Talks were positive and the sides reached broad consensus, it added.