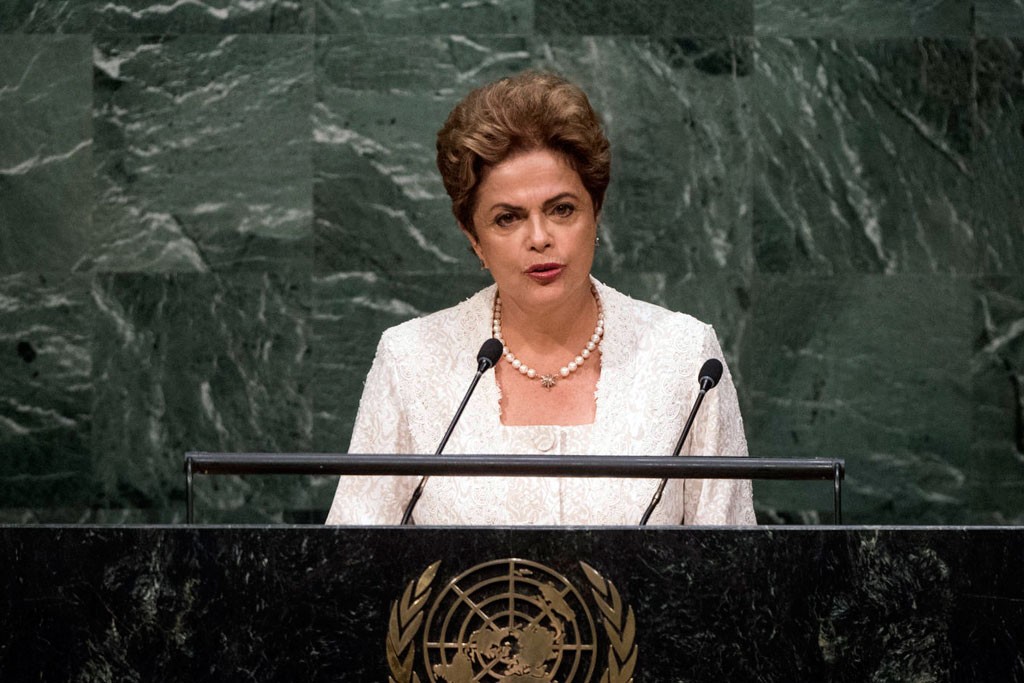 Following the tradition of being the first Head of State to address the annual General Debate of the United Nations General Assembly, Brazilian President Dilma Rousseff today, in a wide-ranging address, stressed, among other issues, her country's improved economy after the 2008 economic crisis and its efforts to provide refuge for migrants stranded across Europe.
Ms. Rousseff said that numerous fiscal measures undertaken by the Government since the global meltdown has led to the revival of Brazil's economic stagnation.
"During these six years, we adopted a comprehensive set of measures by lowering taxes, expanding credit, strengthening investment and stimulating household consumption," said President Rousseff.
Brazil's effort to reduce greenhouse emission gases was also emphasized by President Rousseff in her speech. Earlier, she had announced the Brazil's INDC (Intended Nationally Determined Contributions) according to which the country would strive to reduce 43 per cent of its greenhouse gas emission by 2030.
She also added that Brazil is at the onset of an economic expansion where measures are being taken to alleviate investments in energy and infrastructures.
The President also commented on the poor management of the rising refugee crisis that is gripping the European countries. She also criticized the stance of disallowing people who are desperately seeking humanitarian assistance along European borders.
"The profound sense of indignation caused by the picture of a dead Syrian boy on the beaches of Turkey and by the news of the 71 people asphyxiated inside a truck in Austria must be translated into unequivocal acts of solidarity. In a world where goods, capital, data and ideas flow freely, it is absurd to impede the free flow of people," she said.
She welcomed the arrival of refugees and insisted 'Brazil is a hosting country'.
"We have received Syrians, Haitians, men and women from around the world, just as we sheltered, over a century ago, millions of Europeans, Arabs and Asians. We are a multi-ethnic country, where differences coexist," she added.
President Rousseff also called for the expansion of the UN Security Council's permanent and non-permanent members.
She also commended UN's recent adoption of 2030 Agenda and the Sustainable Development Goals (SDGs) and applauded the Organization's effort in prioritizing urban challenges such as gender and race.
Yet, she said the UN has not had the same success in addressing collective security, an issue which was present at the Organization's origins and which remains at the centre of its concerns.
"The proliferation of regional conflicts – some with high destructive potential – as well as the expansion of terrorism, that kills men, women, and children, destroys our common heritage and displaces millions of people from their secular communities, show that the United Nations [faces] a great challenge."
Turning to her country, she highlighted Brazil's success in eradicating abject poverty by incorporating renewed social policies and cash transfer programs.
Leading with her country's example she emphasized that comprehensive efforts must be taken to fulfil Zero Hunger policy which is Goal Two of the SDGs.
"The efforts to eradicate poverty and promote development must be collective and global," she said in her speech, stressing that implementing Agenda 2030 requires global solidarity, a determination from each one of us and a commitment to confront climate change, overcome poverty and generate opportunities.
Ms. Rousseff is among the many leaders who will address the general debate of 70th General Assembly which is opened this year with the adoption of Agenda 2030 and 17 Sustainable Development Goals. Made up of all the 193 Member States of the United Nations, the Assembly provides a forum for multilateral discussion of international issues covered by the UN Charter.