HT Correspondent, Hindustan Times, New Delhi
Updated: May 22, 2015 13:33 IST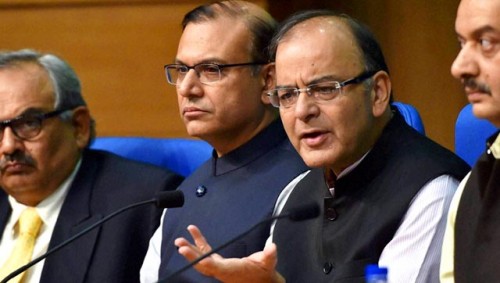 The National Democratic Alliance (NDA) govt has ushered in an environment of enthusiasm on the economic front and it is taking decisions in order to promote development, finance minister Arun Jaitley said on Friday.
"There was a general environment of gloom one year back," he said at a press conference.
"There has been transparency in the decisions that have been taken by this government," Jaitley said, stressing there was a clarity on vision. "There's absolute clarity where the Modi govt wants to go. The direction is growth and development."
A wobbly economy, low job opportunities, high inflation, political logjam in Parliament and fears of a below normal monsoon are the next challenges to the government.
Turning around business sentiment and pushing social sector programmes would be on the priority list of the Modi-led government.
"In the field of indirect taxation, we are in process of creating history by bringing most important indirect tax reform — the GST," Jaitley said.
GST is India's most ambitious indirect tax reform plan, which aims to stitch together a common market by dismantling fiscal barriers between states. It is a single national uniform tax levied across the country on all goods and services except petroleum products, and alcohol for human consumption.
Highlighting PM Modi's mantra of cooperative federalism, Jaitley said the government was committed to better Centre-state coordination.
Misuse of investigative agencies is a thing of the past, the finance minister said, adding there was no major case of graft in the past year.
He said 'One Rank One Pension' for defence personnel was an unambiguous commitment of the government and it will be implemented.
He said some fast and far-reaching decisions were were taken in a transparent manner in areas like railways, power, coal, mining, rural roads, telecom, highways, urban development, financial services, subsidies and petroleum, and these have left a mark for future growth.
"We are today the fastest growing economy in the world. But that is not enough for us," he said, adding that the public at large now was able to even ask: "Why arent we growing faster that the 8%, and this restlessness to grow faster is the real potential of India."
Talking about Modi's foreign tours, he said the PM visited to 18 countries in one year. "Our diplomacy has created a new place for India," Jaitley said.
Jaitley said the value of the rupee should be market-driven, while noting India had potential to touch double-digit economic growth.
The time is right for the Reserve Bank of India (RBI) to cut interest rate due to falling inflation, he said. "Inflation control has been a positive achievement of the government."
The RBI will review its monetary policy on June 2 and is widely expected by economists to lower its key policy rate by 25 basis points on the back of the sharp fall in both retail and wholesale prices.
Jaitley also said the government was in consultations with the RBI on setting up an independent public debt management agency (PDMA).
(With agency inputs)