The European Investment Bank and the Asian Infrastructure Investment Bank on Monday signed a framework agreement and agreed to broaden cooperation, in an accord seeking to jointly finance strategically important projects.
"The agreement is crucial to expand our partnership in addressing the monumental infrastructure financing needs around the world," said Jin Liqun, president of the AIIB.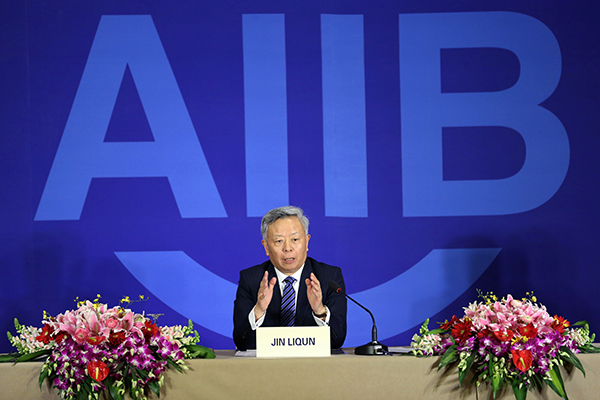 Jin added that the AIIB was created with the goal of promoting regional cooperation and partnership to address development challenges. He said joint efforts between the two banks could be a steadying force in a complex global economic environment and create enduring positive developmental results.
Werner Hoyer, president of the EIB, said the two banks shared similar business models. Hoyer said he was looking forward to working together with the AIIB to address global challenges, in particular programs that would help tackle climate change, ensuring the provision of sustainable transport and providing clean water.
The two did not provide further details, but it is believed the first investment project on which the banks are going to cooperate will be located in India. That's where the EIB decided to provide a 450 million euros ($501 million) long-term loan earlier this year to finance the first metro line in Lucknow, the capital of Uttar Pradesh.
Hoyer said that such programs were able to improve the construction of urban infrastructure and fit his bank's criteria to invest in economically, socially, and ecologically sustainable projects.
"China's Belt and Road Initiative would provide more opportunities along the countries effected to make investments in valuable projects," Hoyer said.
The EIB and the AIIB have already established a strong track record of cooperation, including sharing technical and financial expertise.
EIB President Hoyer is currently on a five-day official visit to China, the focus of which is to strengthen the EIB's partnership with China on addressing the problems of climate change.
The EIB is the world's largest lender for climate-related investment and global leader in issuing green bonds.
Last year, EIB support for climate finance outside Europe represented 30 percent of overall lending, according to Hoyer.