Eight candidates are vying to become the next head of the strategic African Development Bank as the continent undergoes an economic transformation.
With 80 African Development Bank (AFDB) shareholders – 54 African states and 26 non-African countries – set to vote on Thursday, it is difficult to predict who will succeed Rwandan Donald Kaberuka, bank chief for two consecutive terms since 2005.

The new super banker will take over an AfDB seeking to diversify beyond its  traditional role as a development bank, which lends money for major projects – a total of $6.8-billion for 317 operations in 2013.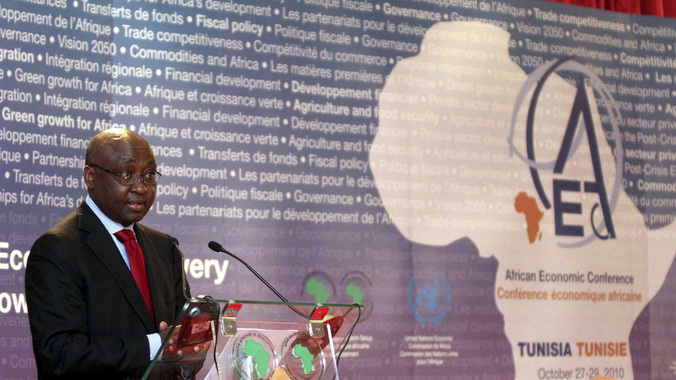 Today despite multiple conflicts, health crises such as Ebola, and staggering poverty, Africa is seen as "a new frontier in world economic growth", Amethis investment fund founder Luc Rigouzzo told AFP.
He noted that the continent's gross domestic product has doubled since the year 2000 to $20-trillion. In an OECD-led report released Monday, economists predicted the overall African economy would expand by 4.5% this year.
In this new frontier, shareholders in the Abidjan-based bank might for the first time pick a woman, Cristina Duarte, Cape Verde's finance minister, who would also be the first Portuguese speaker to run the bank.
Other contenders include Akinwumi Adesina from Nigeria, which rivals South Africa as an investors' favourite despite fighting a six-year insurgency by Boko Haram Islamists in the country's north.
However, a win by Adesina, Nigeria's outgoing agriculture minister, would break an unwritten rule that regional heavyweight countries should not run the AfDB.
The candidates from Francophone African countries are Mali's Birama Sidibe, an expert in development, Tunisia's ex-finance chief Jalloul Ayed and Bedoumra Kordje, current finance minister in Chad, who if chosen would become the AfDB's first president from central Africa.
Ethiopian finance minister Sufian Ahmed, Sierra Leone's foreign minister Samura Kamara and former AfDB vice president Thomas Sakala of Zimbabwe round out the list.
West, Asia play kingmakers
Foreign investors will likely play the role of kingmaker in choosing the next AfDB chief.
The United States – the AfDB's second-biggest shareholder after Nigeria – will have a central role in the vote, as will Japan and China.
France wants a bank president who is "more concerned about the interests" of Francophone Africa, the finance ministry says.
But analysts say Western powers need to take a new view of Africa.
"The West has held on to a vision that was true 30 years ago, of an empty, rural continent with a colonial trading post economy, heavily dependent on raw materials and the trickling-in of foreign aid," said Rigouzzo, a former chief of France's development agency.
Africa "is still seen as waiting for handouts, but we are no longer in that situation", he said. "Public development aid now accounts for less than 2.5% of the continent's GDP."
Private capital is flowing, with major US-based investment and equity firms Carlyle and KKR setting up shop in Africa, while several countries now finance themselves fully on the market.
And without losing sight of the need to fight poverty and develop infrastructure, the new AfDB chief must plan to manage the continent's financial attractiveness.
No more 'white elephants'
Nigeria's Adesina told AFP in late March that he wanted to "finish off the white elephants", in a reference to useless luxury projects that are often financed using international aid and built by foreign businessmen, and which reek of corruption.
He called for "intelligent infrastructure that is more productive, more competitive".
He also urged more co-operation across borders, pitching ideas such as an "African Google", a transnational electricity market, and a regional stock exchange.
Mali's Sidibe told AFP he wants to "pull the bank out of its comfort zone". The AfDB should act as a "financial catalyst", not just as a lender.
Cape Verde's Duarte shares a similar vision. If chosen, she wants to turn the AfDB into an "innovative, creative bank that responds to the specific needs of African countries and their private sectors".
The winning candidate needs to secure a majority of votes from both bank members and African states. – AFP