VISAKHAPATNAM, JANUARY 11:
The Asian Development Bank will extend a $625 million loan to the proposed $840 million Visakhapatnam-Chennai Industrial Corridor, according to Teresa Kho, Country Director – India, ADB.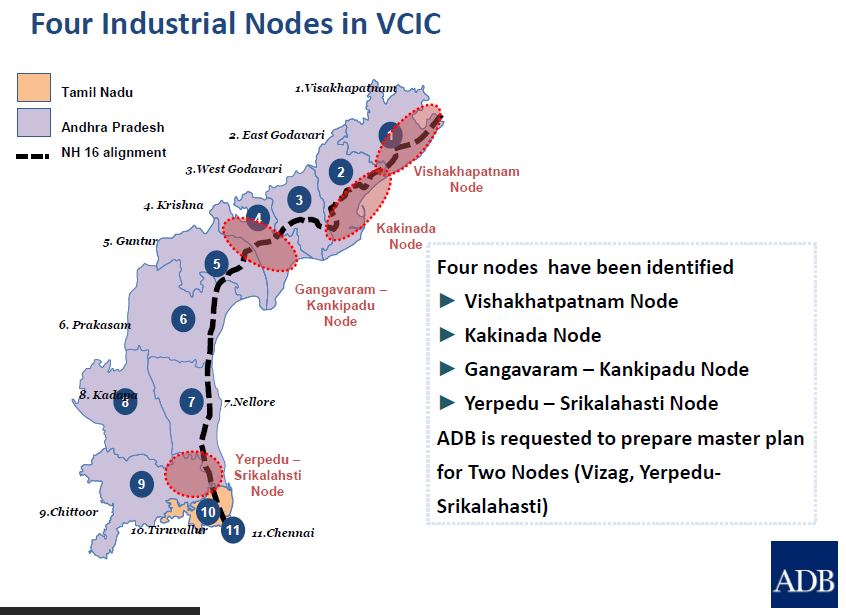 She said the industrial corridor, meant to boost manufacturing activity and help economic growth of the hinterland, will have four nodes: Visakhapatnam, Kakinada, Gannavaram-Kankipadu, and Yerpedu-Srikalahasti.
The building blocks of the corridor would be node-centred development and trade and transport.
The VCIC, she said, was anchored on nearly 800 km of National Highway 16, which was highly congested. Arterial roads would have to be developed. The VCIC would be part of the proposed East Coast Economic Corridor, from Kolkata in West Bengal to Tuticorin in Tamil Nadu, Kho said, addressing a plenary session, 'Sunrise Andhra Pradesh: turning aspirations into reality', at the CII Partnership Summit now underway here.
M Venkaiah Naidu, Union Housing and Urban Poverty Alleviation Minister, said the Housing and Urban Development Corporation would help build Andhra Pradesh's capital at Amaravati with an assistance of ₹7,500 crore. Naidu said a metro rail was under consideration for Visakhapatnam, while tenders would be invited for one in Vijayawada.
He and Union Minister of State for Finance Jayant Sinha emphasised that the Centre would provide assistance to Andhra Pradesh. They pointed out that like Prime Minister Narendra Modi, the State had an able and decisive leader in Chief Minister Chandrababu Naidu. Thanks to this, Andhra Pradesh would be at the forefront of India's economic growth, he said.
Inclusive growth
Outlining his vision for Andhra Pradesh's development, Chief Minister Chandrababu Naidu said this time around his strategy would be to go in for inclusive growth.
He admitted that in his earlier stint as Chief Minister of the undivided State, he had focused only on growth in the belief that it would have a trick-e down effect. He said he had made a few mistakes in his last stint as Chief Minister, which he was keen to avoid this time around. Without an inclusive strategy, all development efforts would be neutralised.
The Government's strategy would encompass all aspects — agriculture, manufacturing and services — so that no section of society was left untouched.
He said while he had developed Hyderabad earlier as a knowledge economy, this time his strategy would be to develop Andhra Pradesh as a port- and export manufacturing-led hub. "I have proposed a vision that is responsive, sustainable and inclusive," Naidu said.
His aim was to take Andhra Pradesh among the top three States by 2022, the number one by 2029 and the preferred destination by 2050. For this, the State would have to consistently aim for and achieve 14-15 per cent economic growth every year, he said.