Deep in the Himalayas some three miles above sea level, Indian security forces and Chinese soldiers gaze at each other through a barbed-wire fence while trucks carrying goods from both sides pass through a large iron gate that marks the border.
The Nathula Pass, once part of the ancient Silk Road and later sealed after a 1962 war, was reopened in 2006 as a symbol of improved relations between Asian neighbors that account for more than a third of the world's population. A decade later, however, it perhaps better reflects a trust deficit: the pass even does not account for one percent of overall bilateral commerce.
"Business is very slow here," said Riku Doma, 42, a shopkeeper at a market close to Nathula who sells jackets, blankets and shoes in India. "I'm just managing to survive."
Large sections of the road linking India's state of Sikkim with Tibet are narrow and littered with potholes. The area has no warehouses to store goods nor any hotels. Only 56 low-end items can be traded, like tea, bicycles and canned food. And for about half the year, heavy snowfall forces authorities to close the border altogether.
The connectivity problems in the Himalayas, long a natural land barrier between India and China, extend to sea routes that account for the bulk of trade between the nations. A lack of quality roads around ports, insufficient warehouses, high tariffs and visa restrictions have contributed to a lopsided and lackluster trade relationship. To help ease trade barriers, negotiators are meeting next week.
In the last four years, commerce between the nations has failed to match its peak of $79 billion in 2011, according to data compiled by Bloomberg. China's trade with the U.S. has grown 21 percent in that time to $627 billion. Moreover, India has a trade deficit with China of nearly $50 billion, its largest with any country. Singapore, with a population about 240 times smaller than India, sells twice as many goods to China each year.
"Both sides are yet to tap their trade potential," said Ravi Shekhar Vishal, an assistant professor at Sikkim University who co-authored a research paper on Nathula trade. "That's primarily because the trust between them is fragile and superficial."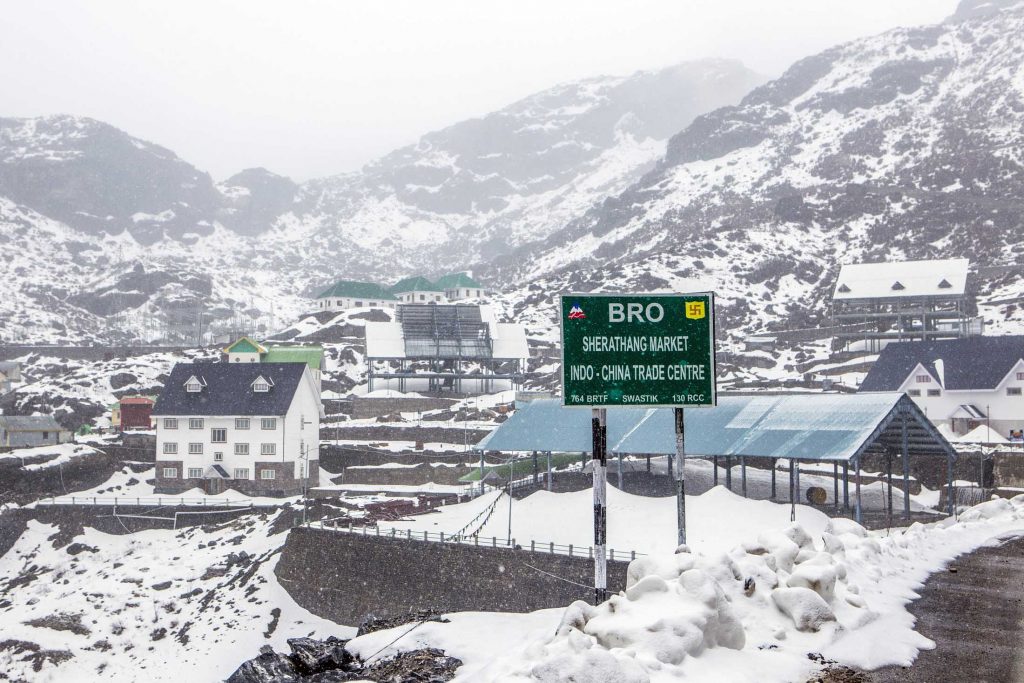 Politically Difficult
The large trade deficit makes any future opening politically difficult for Prime Minister Narendra Modi. Lawmakers keep urging him to take protectionist measures against China, and the gap routinely comes up in Modi's meetings with President Xi Jinping.
Even so, Indian policy makers realize that little can be done in the short term.
For one, both nations are members of the World Trade Organization, which doesn't allow governments to discriminate against specific countries in setting trade policy. A bigger problem, however, is India's own roads, ports and railways. In 2014 it cost $1,332 on average to export a container from India, compared with $823 to ship from China.
"The solution is the need to increase India's domestic competitiveness," said Arvind Mehta, additional secretary of India's Ministry of Commerce and Industry. "I am competitive at the factory gate, not at the port. To win the game I need to be competitive at ports."
Miniscule Investment
One way to help eliminate the trade deficit is to get China's manufacturers to start making goods in India. So far, Chinese foreign direct investment into India has been miniscule: $1.36 billion over the past 16 years.
Even the Regional Comprehensive Economic Partnership, a 16-country trade deal that aims to unify a market of more than 3 billion people, has problems. India wants moderate import tariff on goods rather than complete elimination of duties, while China is pushing to increase number of products that will attract zero duty.
India is also pushing for easier access to overseas markets for its service professionals, "and we are going to see how much appetite our RCEP partners have," said Mehta, one of the negotiators, said in June. "If we don't see enough of appetite, then don't expect it to be a one-way street."
All in all, the signs don't bode well for the two-day meet starting Monday in Jakarta.
"It's just not convenient to do business between the two nations," said Huo Jianguo, senior researcher at the Chinese Academy of International Trade and Economic Cooperation. "There's a lack of trust between the two peoples."