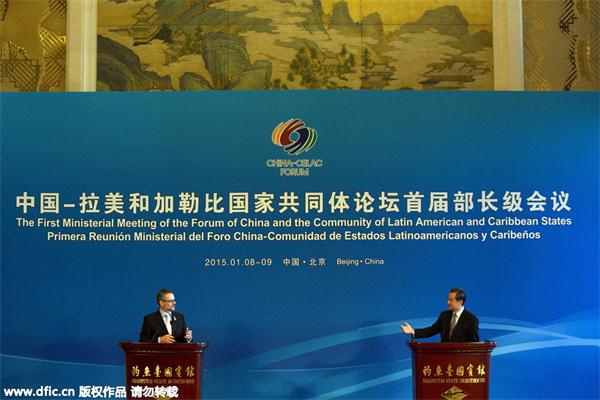 The 9th China-LAC Business Summit will take place this week in Guadalajara, Mexico. For two days, members of the China- LAC business community will get together to discuss the challenges and opportunities lying ahead. This year's event, however, is different from previous editions. Why? First, because China has unveiled new policies that will dramatically transform its economy in the coming years. Second, because major LAC countries such as Brazil are struggling to get back on the growth track. Winston Churchill used to say that pessimists see the difficulty in every opportunity while optimists see the opportunity in every difficulty. As an optimist, I believe that China and LAC can translate the current uncertainties into opportunities. However, to do so, business and government leaders from both sides should aim for a higher degree of sophistication in bilateral trade and investment. Here are three ideas to make this happen:
1. Bet on investment, bet on e-commerce
LAC needs more and better Chinese investment projects. Chinese investors are interested in broadening the scope of their investments in the LAC markets. Yet, the haziness of investment opportunities in the region prevents Chinese companies from identifying them clearly. To unleash the full potential of Chinese investment, LAC governments and businesses must work to understand the current priorities of Chinese companies. To upgrade the quality and quantity of Chinese investments, LAC could look at what developed nations like Australia are doing in the field. In addition to rethinking investment models, LAC companies need to step up their game in China's lucrative e-commerce sector. Opening stores in platforms like the newly launched Tmall Global could be a good starting point. Attention should likewise be paid to emerging Chinese e-commerce platforms.
2. Surf the Internet + Wave.
When it comes to the Internet economy, those who are doing business in China know that something important is happening, and in the long run it will matter a great deal. This trend goes far beyond BAT (Baidu, Alibaba, Tencent). Since Li Keqiang announced that the government would strongly support Internet industries, thousands of Chinese companies have launched projects related to Internet+finance, Internet+manufacturing and Internet+trade. LAC companies and governmental organizations should not miss this opportunity. Notably, some institutions have been actively promoting the online integration between China and LAC. The Inter-American Development Bank (IDB), for example, recently launched ConnectAmericas — the first social network for businesses in the Americas, dedicated to promoting foreign trade and international investment. ConnectAmericas has a China-oriented community that helps LAC companies seeking opportunities in China and vice versa.
3. Strengthen the integration of the entrepreneurship ecosystems.
These days, there is simply no better place than China to start a business. From Shanghai to Hong Kong, from Beijing to Chengdu, you can feel the entrepreneurial energy flowing and growing. But China's gigantic market and outstanding manufacturing infrastructure explains the success of the country's entrepreneurship ecosystem. At the same time, LAC has become home to many world-class incubators and business acceleration programs. Start-up Chile is perhaps the most renowned one, having helped entrepreneurs from all over the globe to launch their businesses in LAC. However, in this field, there's a lot of room for improvement. For example, LAC entrepreneurs desperately need better access to China's venture capital networks and crowd-funding platforms. Likewise, Chinese start-ups need LAC partners who can help them soft-land their products and services in the region.