In a new report released on Tuesday, the World Bank said the five largest social safety net programs in the world are being implemented in India, China and Brazil. These account for almost half of the global coverage, said the World Bank, lauding the efforts by governments in these three countries.
"India's National Rural Employment Guarantee Scheme, India's School Feeding Program, China's Di Bao, Brazil's Bolsa Familia and Programa de Alimentacao Escolar have a combined reach of over 486 million people," said the global report.
"Two Indian programs in the global inventory are on top of their respective types, including the School Feeding Program (113 million) and the Mahatma Gandhi National Rural Employment Guarantee Scheme (193 million). These are also the largest-scale social safety nets globally," added the report.
Meanwhile, the Child Support Grant in South Africa has been revealed to be the largest social safety net in the African continent.
Governments in developing and emerging countries spend on average 1.6 per cent of GDP on social safety nets programs. Energy subsidies, the World Bank warns, "may crowd out other types of public spending, explaining low spending on social safety nets."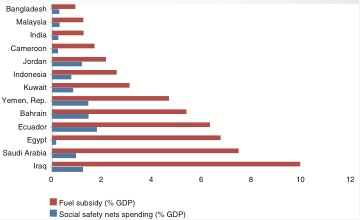 World Bank
"Studies from several countries have shown that fuel subsidies are regressive and ineffective in terms of protecting the poorest," the report said.
The World Bank report also lauded India for a "strong legal framework, including Right to Food and MGNREGS acts".
The report argues against multiple and fragmented registries, seeing potential instead in unified registries like India's Unique Identification (UID) and Brazil's Cadastro social registry that includes data on about 27.3 million people and connects 10 programs.
Ahead of the polls in October this year, Brazilian President Dilma Rousseff announced a 10 per cent increase in social security transfers with additional tax cuts for the poorest Brazilians.
"This will be an important indirect salary gain and more money in the pockets of workers," said Rousseff.
53 per cent of Brazil's poor (or the bottom quintile) are covered by social safety net transfers, says the World Bank report on Tuesday.