JAYANT SRIRAM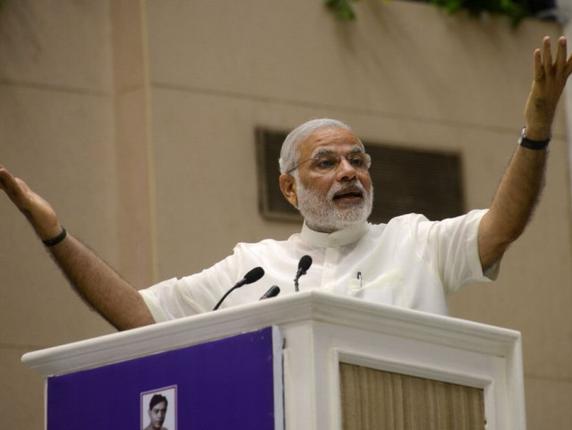 PM Modi will address the first meeting in Mathura
The BJP will celebrate Prime Minister Narendra Modi's one year in office with a week-long campaign called "Jan Kalyan Parv" or "People's Welfare Festival" aimed at countering a flood of charges that its policies are 'pro-corporate' and 'anti-poor.'
The party will hold 200 rallies across the country with Mr. Modi scheduled to address the first meeting at Nagla Chandrabhan village in Mathura, the birthplace of Deendayal Upadhyaya, on May 25. As part of the festival, all Union Ministers, BJP MPs, party Chief Ministers and MLAs, besides Central and State office-bearers will travel across the country to highlight the government's achievements.
Work will be assigned by order of seniority. Each Minister has been asked to be at a city to spearhead the campaign on May 26. Party MPs have been asked to spend a week in their respective constituencies describing their achievements. Each government department is also preparing a booklet and an e-booklet for the cadres.
Besides rallies, about 200 press conferences have also been planned to talk about the initiatives of the government.
A press conference will be addressed by BJP chief Amit Shah in Delhi on May 26, and he will address a public rally at Karnal the same day. The next day, Mr. Shah will be in Surat and from there he will go to Panaji on May 28. He will address press conferences in the morning and public rallies in the evening at both the places.
"All Central Ministers, MPs, Chief Ministers and Ministers in States and MLAs, besides office-bearers at the Central and State level will address 200 big rallies and 5,000 'jan sabhas' across the country till the tehsil level," senior party leader and Union Minister Ananth Kumar had said on Saturday.
He added that all Central Ministers will give three days to the exercise during which they will address three big rallies and three press conferences.
The massive outreach programme to mark the NDA government's one year in office is similar in scale to Mr. Modi's successful Lok Sabha election campaign during which he held 5,827 public meetings across India.
In the run-up to last year's Lok Sabha elections, the BJP had claimed that Mr. Modi had reached out directly to between 50 million and 100 million people.