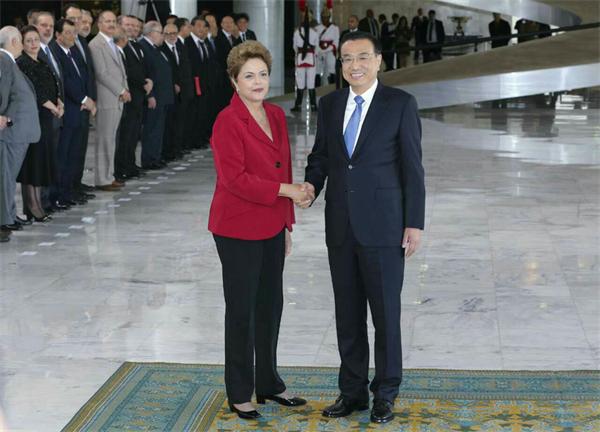 Chinese Premier Li Keqiang is on a four-nation visit to Latin America, which has benefited from its growing relationship with China. In particular, the four countries on Li's itinerary – Brazil, Colombia, Peru and Chile – have enjoyed the benefits of their deepening ties with China. For example, in 1993 Peru's exports to China were worth only $140 million. The figure jumped to $676 million in 2003 and $7.8 billion in 2012, because of the strong demand of China for primary goods – minerals, oil and agriculture products – and the increase in their prices.
The Chinese economy on average grew at 10 percent a year in the decade up to 2011. But that pace has slowed down to about 7 percent a year, and Latin America has been feeling its impact. Peru's economy, for instance, grew on average 6 percent a year over the past decade. But last year its growth slowed down to 3 percent, partly because its exports to China fell to $6.9 billion.
The demand for and prices of minerals have dropped because the Chinese economy is entering a "new normal" of lower but more sustainable economic growth.
So what opportunities does China's transition have to offer Latin America? A lot. That China is not growing at 10 percent but 7 percent a year does not mean the size of its economy is shrinking and its demand for foreign goods will slow down. Consider this. The size of the Chinese economy is now nearly $10 trillion. And even if it grows at 5 percent a year, its size will increase by $500 billion every year, which is equal to the annual expansion rate when its size was $5 trillion and growth 10 percent.
With China's economy continuing to grow, its demand for foreign goods will also grow. Its demand for copper and other minerals will grow too (albeit at a lower rate), but it will demand more food and perhaps manufactured products, which Latin America could supply. For example, with 55 percent of China's population living in urban areas and earning higher income, and the resulting change in dietary habits, the demand for dairy products and wine and spirits could grow, which Latin American countries can meet.
Another area in which Latin America countries can continue benefiting from their deepening ties with China is the country's Silk Road Economic Belt and 21st Century Maritime Silk Road initiatives. These initiatives demand huge amounts of funds, as well as goods, especially raw materials, which Latin American countries can supply.
Also, the increasing links between China and Europe will boost the economies along the two Silk Roads, and increase the demand for products and services that Latin American countries could provide.
China is now the second-largest trade partner of Latin America. This partnership will continue to grow. In fact, addressing the first forum of China and the Community of Latin American and Caribbean States (CELAC) in Beijing in January, Chinese President Xi Jinping said trade with the region would double to $500 billion by 2025. Chinese investments in the region would double, too, he said.
China's increasing presence in the so-called backyard of the United States has raised some eyebrows. And it is one of the reasons why the US is trying to improve its ties with Latin America. US President Barack Obama's participation in the Organization of American States summit in Panama and the US' all-out efforts to establish diplomatic ties with Cuba are two examples of Washington's changed attitude toward CELAC.
Latin America was dependent on the US market and investment for a long time. Now it needs other engines of growth, and China is willing to help it in its efforts through a partnership that benefits both sides.
The author is a professor of economics at San Marcos National University in Lima, Peru.